This year marks five years since the French group Neoen built the Cestas Solar Park (
Centrale solaire photovoltaïque de Cestas
) near Bordeaux.
This project with an installed capacity of 300 MW can meet the annual electricity needs of a city with a population of 300 thousand inhabitants.
Moreover, it remained the largest photovoltaic system in Europe until 2020.
A consortium of Eiffage, its subsidiary Clemessy, Schneider Electric and Krinner designed and built this unique solar park in 2015.
Clemessy, together with Schneider Electric, will be responsible for the operation and maintenance of Cestas Solar Park for 20 years.
983,500 PV modules for the construction of the power plant were supplied from China (
Yingli and Trina Solar
) and Canada (
Canadian Solar
). According to Neoen, these manufacturers were selected for their ability to respond quickly to demand, ensuring the supply of panels on a tight schedule.
The total investment in the
construction of a solar power plant
in Cestas was 360 million euros (
Neoen owns 40% of the shares of the project and all related infrastructure facilities
).
The technical characteristics of the power plant are impressive.
Almost a million PV modules are installed on 16,542 fixed mounting frames.
About 3,700 km of cables connect the modules to each other, and 24 km of access roads ensure unhindered maintenance and monitoring of equipment.
According to rough estimates, the power plant produces 355 GWh of energy per year, which corresponds to a capacity factor of 13%.
Cestas has increased gross solar energy production in France by more than 6% compared to 2014 (5,500 GWh).
The photovoltaic system is directly connected to the power grid, which has been specially adapted to the connection of this facility. This allows residents of Aquitaine, as well as residents of other regions of the country, to benefit from this renewable energy source at a minimal cost.
Centrale solaire photovoltaïque de Cestas is quite competitive:
the electricity it produces was initially supplied at € 105 per MWh, which is comparable to the local nuclear and wind energy prices of around € 80 per MWh.
A brief history of Cestas Solar PV Park
Cestas Solar Park is distinguished by its high construction speed.
The work began in November 2014 and ended in October 2015.
Commissioning took place on December 1, 2015, when the power plant was directly connected to the national grid.
The land, formerly owned by a forestry group, is now owned by an independent French renewable energy producer. The site is located close to high voltage power lines, which is of strategic importance for solar energy. The generated electricity is practically not stored, but is immediately exported to the power grid through a neighboring substation.
The electricity price of € 105 per MWh, which should remain constant for twenty years, makes Cestas one of the most profitable solar power plants in France. This tariff reflects a sharp drop in solar energy prices.
For example, in 2010, similar photovoltaic systems in Europe produced electricity at € 300 per MWh.
Although Neoen used solar panels (45% of the project cost) from foreign manufacturers, the company selected French contractors to carry out the construction and supply the electrical equipment. Clemessy led the project, Nexans supplied nearly 4,000 kilometers of electrical cables, and Schneider Electric was responsible for high voltage substations, transformers and inverters.
This photovoltaic project, which required € 360 million in investment, was built in just 10 months thanks to innovative installation methods. Neoen CEO Xavier Barbado said three years ago it would have taken the consortium a year to build a solar power plant 10 times smaller than Cestas.
The engineers proposed a rational construction method with the transportation of the PV panels on site by platforms with a tractor. This helped to optimize the work of the builders.
With this method, it is possible to install up to 15,000 modules, or almost 5 MW per day.
Photovoltaic project specifications
For Cestas Solar Park, it was decided to choose fixed panels, sloping slightly from east to west.
Neoen commented that this was the best solution for increasing the area and preventing shading.
Another feature of the project was the absence of concrete foundations. Instead, the frames for the PV panels were screwed directly into the ground. This solution makes sense from an environmental and economic point of view, making construction cheaper and faster.
Despite the simplicity and low cost of technology, Cestas demonstrates the highest level of technical reliability. Over the five years of operation, breakdowns have occurred extremely rarely. The average annual availability of equipment is 99%.
When a single photocell fails, the panel changes quickly.
Whatever happens, energy production remains under the control of engineers thanks to an automated monitoring system.
The purpose of this system is to detect a decrease in capacity as soon as possible and fix the problem.
Due to the dense arrangement of panels and the orientation of photovoltaic modules from east to west, the energy density per unit of land is 2-3 times higher than when the modules are oriented from north to south. This figure is around 15 W / m² compared to 3-8 W / m² for other PV plant projects in France (Losse, la Colle des Mées, Toul-Rosières).
Cestas represents Neoen's transition from small and medium-sized power plant projects to large facilities. This is the first major power plant from this French company, and the management considers such projects the most promising from an economic point of view.
The construction of large solar power plants is helping to improve competitiveness by significantly reducing the cost of each installed megawatt.
This project is a technological and economic success that demonstrated France's commitment to supporting the development of solar energy.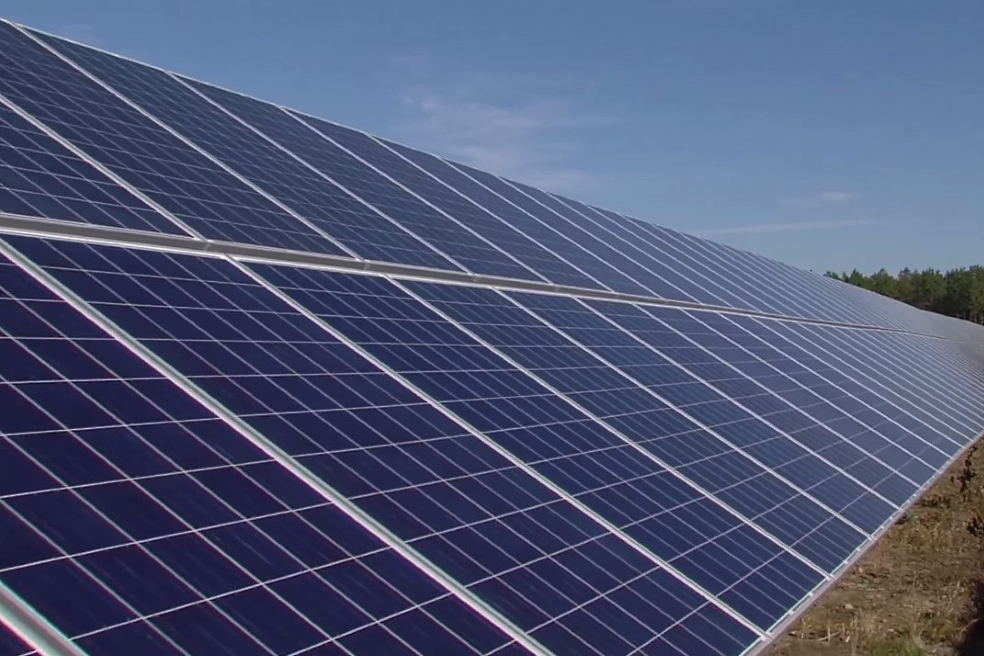 Cestas Solar Park is no longer the largest in Europe
On April 12, 2020, the Spanish energy company Iberdrola put into operation the largest PV power plant in Europe in Nunez de Balboa.
With an installed capacity of 500 MW, it surpassed Cestas Solar Park with its 300 MW.
Built in less than a year near the Portuguese border in Badajoz (
Extremadura
), this giant solar park covers 1,000 hectares, the equivalent of over 1,375 football fields. The power plant is designed to produce 832 GWh of electricity per year, which will prevent emissions of 215,000 tons of CO2.
According to Iberdrola, the capacity factor of the new power plant should be 19%, which is an excellent indicator for European photovoltaic systems. By comparison, the average capacity factor of the French PV sector in 2019 was 15.3%.
The largest photovoltaic power plant in Europe consists of 1,432,000 PV modules, 115 inverters and two electrical substations.
During the construction phase, the project created about 1,200 jobs, with 70% of the workers employed in Extremadura.
The construction of the new power plant was carried out by the French group Eiffage through its Spanish subsidiary Eiffage Energia, which specializes in renewable energy sources. The project did not receive any subsidies or government funding.
The funds of almost 300 million euros were received thanks to a loan from the
European Investment Bank
.
Neoen is currently present in 13 countries with projects in the solar, wind and energy storage sectors.
The total capacity of finished and under construction projects in September 2019 exceeded 2.8 GW. At the end of 2019, Neoen had 22 active energy projects in France, with 5 more projects under construction and over a hundred projects under development.
In 2020, Neoen and its partner Electricidade de Moçambique (EDM) began construction of Central Solar Metoro, a 41 MW photovoltaic plant in northern Mozambique.
Our services: construction of solar power plants in France under an EPC contract
ESFC
offers financing and construction of solar power plants in France.
We and our partners have sound financing schemes and advanced technologies for the construction of photovoltaic and CSP projects, backed by more than 20 years of practical experience.
We prove our professionalism and reliability every day by participating in many of ambitious solar projects.
If you are interested in engineering consulting services, financing energy projects or construction of solar power plants in France under an EPC contract, contact us and schedule a consultation at any time.
Solar energy in the European Union: situation and prospects
2019 was a year of rapid growth in solar energy in the EU.
In 2019, 16.7 GW of installed capacity was added, and today Europe has a total solar capacity of more than 131.9 GW.
Thus, solar energy is replacing nuclear energy with an installed capacity of 118 GW, of which about 63 GW is accounted for by French nuclear power plants.
Despite the parity of installed capacity, the actual production of electricity from solar power plants is still inferior to nuclear power. Since the capacity factor of photovoltaic systems is 16%, 1 GW of installed capacity in nuclear power generates the same amount of energy as 6 GW of installed capacity in solar energy sector (ratio 1: 6).
According to Walburga Hemetsberger, CEO of SolarPower Europe, solar energy in the European Union has entered a new era of explosive growth. Despite the immature technology, in 2019 Europe installed more new solar capacity compared to other power generation technologies.
Experts are confident that the active construction of solar power plants in France and other leading EU countries will help make the Green Deal a reality for Europe.
In addition, solar energy is popular with European consumers. According to SolarPower Europe polls, 90% of Europeans believe that solar energy is the best tool for fighting global warming. At low cost, photovoltaic systems do not emit any hazardous waste and pose no environmental risks.
Today it is an extremely competitive renewable energy in terms of costs.
But high competitiveness is not the only reason for the rapid growth of the sector in France and Europe in general.
EU countries have begun preparing a strategy in line with the European Commission's clean energy package, which sets a goal to reach 32% renewable energy sources by 2030.
Below are the top 5 EU countries in terms of solar energy growth in 2019:
| | | |
| --- | --- | --- |
| Rating | Country | Installed capacity in 2019, GW |
| 1 | Spain | +4,7 |
| 2 | Germany | +4,0 |
| 3 | Netherlands | +2,5 |
| 4 | France | +1,1 |
| 5 | Poland | +0,8 |
Almost all European countries understand their responsibility when assessing the environmental and economic prospects of this sector.
Over the past year, 26 of the 27 EU member states have installed more PV infrastructure than in 2018.
Spain is the leader of this trend.
The country has increased its installed solar capacity by 4.7 GW, and does not intend to stop there. By announcing the fight against climate change, Spain plans to achieve 37 GW of installed solar capacity by 2030.
Despite the construction of large solar parks such as Nunez de Balboa, small off-grid solar power plants play an important role in the local sector.
According to experts from the
Spanish Photovoltaic Union (UNEF)
, small soalr energy producers will grow from 300 to 400 MW per year.
Germany ranks second in Europe, with 4 GW of additional capacity installed in 2019. With a desire to phase out nuclear power in 2023 and coal in 2038, Germany is fully committed to energy reform and aims to move to 100% renewable energy as soon as possible.
Green energy currently accounts for over 40% of total electricity production in Germany due to the growing number of wind turbines and solar panels. The country is the leader in Europe in terms of installed renewable energy capacity, ahead of Spain and France.
The Netherlands ranks third in terms of solar energy development. Although natural gas continues to dominate energy production in the Netherlands, Prime Minister Mark Rutte said he is committed to ending natural gas production by 2030.
The situation with the Groningen gas field is of concern. Due to overexploitation, this place becomes a source of earthquakes that threaten the local residents. For environmental reasons, the Netherlands has started to develop solar energy intensively in recent years. This is good news for the whole of Europe, as renewables currently account for less than 10% of the Dutch energy mix.
The fourth line of the rating is France.
The country is bringing solar photovoltaic capacity to 9.5 GW, aided by the construction of large solar parks and rooftop solar energy production.
In the second half of 2019, there were 58 thousand small energy producers in France.
Virtually absent in 2014, rooftop solar energy production has skyrocketed in recent years, allowing local consumers to gain energy independence and save on bills. Interesting fact: in France, the approximate area of roofs suitable for installing PV panels exceeds 11,400 square kilometers.
Renewable energy currently accounts for 17.5% of final energy consumption in the European Union.
Recent trends associated with the development of solar energy should increase the share of renewable energy sources to 20% in the very near future.
Development of the solar energy sector in France
Currently, the French economy depends mainly on traditional energy sources, among which nuclear power plants occupy an important place.
Nevertheless, the country is committed to the course towards the introduction of renewable energy sources. It has the necessary natural conditions and resources for the development of this sector.
The annual global horizontal solar irradiation (IGH) in France averages 1274 kWh / m².
This average annual value ranges from 1,645 kWh / m² in the Provence-Alpes-Côte d'Azur region to 1,089 kWh / m² in Nord-Pas-de-Calais.
Average monthly solar radiation in France is high between April and September, reaching a maximum in June-July and a minimum from November to February. In July, it is 183.9 kWh / m² , which is 6.26 times more than the December value (29.4 kWh / m²).
The interannual variability of solar radiation, measured by its standard deviation in the period 2004-2012, averaged 2.2%, with a maximum in Alsace and Franche-Comte (3.6%) and a minimum in Ile-de-France at 1.8 %.
The evolution of solar energy production in France is presented in the table below:
| | | | |
| --- | --- | --- | --- |
| Year | Solar energy production, GWh | Growth compared to last year,% | Share in total production,% |
| 2008 | 42 | | 0,007 |
| 2009 | 174 | +314 | 0,030 |
| 2010 | 620 | +256 | 0,11 |
| 2011 | 2 078 | +235 | 0,37 |
| 2012 | 4 016 | +93 | 0,7 |
| 2013 | 4 735 | +18 | 0,8 |
| 2014 | 5 913 | +25 | 1,05 |
| 2015 | 7 262 | +23 | 1,3 |
| 2016 | 8 160 | +12 | 1,5 |
| 2017 | 9 573 | +17 | 1,7 |
| 2018 | 10 196 | +7 | 1,8 |
| 2019 | 11 600 | +8 | 2,2 |
Solar energy production in France reached 11.6 TWh in 2019, which is 7.8% more than in 2018.
Its share in total electricity production was about 2%.
This figure, which is 8.6% of the total European production, made France the 4th largest solar energy producer, after Germany, Italy and the UK.
Globally, France is no longer among the top 10 solar energy producers in 2019, with 0.8% of the global market, according to the International Energy Agency. Today France is significantly inferior to the People's Republic of China (30.1 Gwh).
Solar photovoltaics capacity installed per inhabitant in France at the end of 2019 was 157.9 W, which is 62% of the European average (254.5 W).
At the same time, Germany showed the highest PV capacity installed per inhabitant (590.4 W).
The total installed PV capacity in France reached 9,435 MW as of December 31, 2019, but due to the low capacity factor, its contribution to electricity generation is only 2.2%. The sector remains an open window of opportunity for French and foreign investors.
The construction of Cestas Solar Park was the beginning of a series of major projects in different regions of the country.
After the ambitious and rather successful Neoen project, new facilities of a similar type are expected to open here.
Top 5 largest operating solar power plants in France for 2020
| | | | |
| --- | --- | --- | --- |
| Name | Location | Installed capacity, MW | Year of commissioning |
| Cestas | Gironde | 300 | 2015 |
| Toul-Rosières | Meurthe-et-Moselle | 115 | 2012 |
| La Colle des Mées | Alpes-de-Haute-Provence | 100 | 2012 |
| Losse | Landa | 67,5 | 2011 |
| Crucey | Loire | 60 | 2012 |
In 2020, a 152 MW solar power plant is being built on the site of the former Marville airbase.
The project is being implemented by the French company Third Step Energy (TSE) and the German company Enerparc.
Commissioning is scheduled for February 2021 with an approximate annual production of 156 GWh / year.
How much does it cost to build a solar power plant in France?
The total cost of building and operating solar PV plants is highly dependent on the type and scale of the particular project.
The most attractive are photovoltaic power plants with a capacity of 50 MW or more.
It should be recalled that capital expenditure (
CAPEX
) accounts for almost 80% of the total investment in solar PV projects. According to CRE, with the fall in prices for modules, these investment costs are reduced annually by an average of 10-12%.
When calculating the cost of a project, one should take into account the costs of purchasing a land plot, obtaining permits, developing infrastructure, building power lines, auxiliary systems, carrying out environmental measures and much more.
When Cestas Solar Park was built in 2015, the average cost was € 1.2 million per megawatt of installed capacity. In 2019, this figure fell below € 800 thousand per MW.
At the same time, capital costs for each installed megawatt for large projects can be 1.5 times lower compared to small stand-alone projects intended for individual energy supply (residential buildings, factories, solar parking lots).
Each project requires individual solutions, so average costs are for informational purposes only.
If you are interested in financing and construction a solar photovoltaic power plant in France or other countries under an
EPC contract
, contact us for a cost estimate and consultations.