Wind is a renewable energy source that is available to mankind free of charge and without restrictions.
The construction of wind farms in Germany plays an extremely important role in strengthening energy independence and accelerating the energy transition.
Germany has significant wind energy resources, especially in the north of the country and in the exclusive economic zone (EEZ) of the North and Baltic Seas.
This factor contributes to the intensive development of offshore wind energy.
The rapid reduction in technology costs, high return on investment and the growing demand for renewable energy sources contribute to the interest of German and foreign investors in wind energy. Although changes in prices and legislation do not always have a positive effect on the development of this sector, most experts predict its growth in the coming years.
Since the early 1990s, several tens of thousands of wind turbines have been installed in Germany, including small standalone wind turbines and giant multi-megawatt projects.
As a result, the use of wind energy now makes a significant contribution to the country's electricity supply.
Unlike some other countries, wind power expansion in Germany has many supporters.
According to a recent poll, about 80% of Germans are positive about the construction of
wind power plants
.
Even if wind turbines are already running next to their houses.
Initially, wind turbines were mainly built in the windy coastal areas.
However, impressive technical advances have made it possible to use large diameter wind turbines, which are the most cost effective. These advances allows us to build wind power plants even in the middle of a forest.
The
modernization of wind turbines
in Germany is becoming an increasingly important issue.
The replacement of old low-power equipment with new efficient units is of increasing interest to local customers. Increasing power generation without expanding the site looks attractive to investors.
ESFC, a Spanish company
, offers comprehensive services in the field of financing, construction and modernization of wind farms in Germany under an EPC contract.
We offer investment financing for the implementation of major energy projects in Europe
.
To learn more about ESFC's commercial offer, please contact us at any time.
Development of the wind energy sector in Germany
The wind energy sector in Germany has been actively developing since the early 1990s, facilitated by the adoption of an appropriate legal framework at the federal level.
In 2002, the construction of wind farms in Germany proceeded at a record pace with an additional installed capacity of up to 3 GW per year. In the next few years, construction slowed down due to changes in the Renewable Energy Law (
Erneuerbare-Energien-Gesetzes, EEG
).
The construction of wind power plants in Germany (2000-2019) is shown in the table below:
| | | | | |
| --- | --- | --- | --- | --- |
| Year | Construction of onshore wind farms, MW per year | Construction of offshore wind farms, MW per year | Total installed capacity, MW | Electricity production, billion kWh |
| 2019 | 1078 | 1111 | 61592 | 124 |
| 2018 | 2400 | 970 | 59000 | 108,6 |
| 2017 | 5330 | 1250 | 55900 | 105,5 |
| 2016 | 4630 | 810 | 49600 | 78,6 |
| 2015 | 3730 | 2280 | 44600 | 79,2 |
| 2014 | 4720 | 490 | 38600 | 57,4 |
| 2013 | 3000 | 400 | 33500 | 51,7 |
| 2012 | 2330 | | 31000 | 50,7 |
| 2011 | 1950 | 48 | 28700 | 48,9 |
| 2010 | 1450 | 60 | 26900 | 37,8 |
| 2009 | 1860 | | 25700 | 38,6 |
| 2008 | 1640 | 5 | 22800 | 40,6 |
| 2007 | 1650 | | 22100 | 39,7 |
| 2006 | 2230 | 3 | 20500 | 30,7 |
| 2005 | 1800 | | 18300 | 27,2 |
| 2004 | 2020 | 5 | 16400 | 25,5 |
| 2003 | 2680 | | 14400 | 18,7 |
| 2002 | 3170 | | 12000 | 15,8 |
| 2001 | 2650 | | 8700 | 10,5 |
| 2000 | 1660 | | 6100 | 9,5 |
Currently, the economic and legal conditions for the development of wind energy in the country have improved significantly.
As a result, Germany installed about 1,800 onshore wind turbines in 2017 with a total installed capacity of over 5,300 MW.
However, in 2018, there was a pan-European downward trend in growth (2400 MW), which continued in 2019 (1080 MW).
Below are the figures for the monthly commissioning of new onshore and offshore wind turbines in Germany in 2020, based on current data from the
Federal Network Agency (BnetzA)
*.
Month
Onshore wind turbines
Offshore wind turbines
Number
Power, MW
Number
Power, MW
August
32
109,5
0
0,0
July
23
72,8
1
6,3
June
26
83,6
4
25,3
May
29
80,5
4
25,3
April
25
78,3
4
25,3
March
28
90,8
1
6,3
February
45
139,0
0
0,0
January
37
126,5
18
130,3
* - the table includes only wind generators with a capacity of more than 10 kW.
In 2020, the IWR Institute expects further increases in wind power generation (
2019: about 124 billion kWh, 2018: 111.5 billion kWh
) in Germany as a whole, despite a slowdown in sector growth across Europe.
German wind energy market in 2019
According to the Federal Network Agency, the wind energy market in Germany experienced moderate growth in 2019.
As expected, the pace of commissioning mew wind power plants continued to decline.
Throughout the year, 453 wind turbines with a total capacity of about 2,117 MW were installed throughout the country.
Onshore projects accounted for 293 wind turbines with a total installed capacity of 981 MW, and offshore wind farms accounted for 160 wind turbines with a total installed capacity of about 1135 MW.
According to information from the federal states, Brandenburg ranked first in terms of wind energy growth in 2019, ahead of Lower Saxony and North Rhine-Westphalia.
Expansion of wind power plants in the federal states of Germany in 2019 *:
Federal states
Expansion of wind power plants in 2019
Number of new turbines
Additional power, MW
Baden - Württemberg
6
20,8
Bavaria
7
17,9
Berlin
0
0,0
Brandenburg
61
208,4
Bremen
1
3,1
Hamburg
0
0,0
Hesse
4
13,8
Mecklenburg - Western Pomerania
34
110,2
Lower Saxony
53
174,8
North Rhine - Westphalia
38
126,6
Rhineland - Palatinate
39
135,0
Saar
3
8,9
Saxony
6
17,8
Saxony - Anhalt
14
51,5
Schleswig - Holstein
13
39,6
Thuringia
14
53,1
* - the table includes only wind generators with a capacity of more than 10 kW.
According to transmission system operators (TSOs), total wind power generation in Germany rose to 124 billion kWh.
The share of offshore wind farms in total electricity production was quite modest at 24.4 billion kWh.
Wind and solar energy complement each other
Efficient use of wind energy requires knowledge of the wind resources of the region of the proposed construction.
Winds in Germany prevail in coastal areas in the north of the country, with wind speeds decreasing from north to south.
The weakening of the wind is enhanced by the unevenness of the relief (
cities, mountains and forests
). This effect is superimposed on the change in wind speed with height. Despite the different distribution of wind speed for different construction sites, the actual capacity of wind turbines shows a typical annual cycle.
The highest levels of wind power generation in Germany are achieved during the winter months, which coincides with high consumption and load on the electricity grid.
At the same time, the generation of wind and solar energy in the spring and autumn months is usually about the same.
Power generation from solar photovoltaic systems exhibits a daily cycle that matches the demand cycle: the highest demand for electricity is during the summer months at noon. Experts say that wind and solar energy in Germany complement each other well throughout the year.
The construction of
wind power plants
, along with the development of photovoltaic systems, is contributing to the country's transition to fully renewable energy.
But legal and economic barriers (
especially renewable electricity pricing
) do not always facilitate this transition.
The largest onshore wind power plants in Germany
The list of the largest German onshore wind power plants includes ten wind farms built in the country since the late 1990s.
The rating is compiled in accordance with the installed capacity.
| | | | | |
| --- | --- | --- | --- | --- |
| Rank | Name | Power, MW | Federal state | Years of construction |
| 1 | Windpark Holtriem | 207 | Lower Saxony | 1998-2017 |
| 2 | Bürgerwindpark Reußenköge | 203 | Schleswig - Holstein | 1999-2017 |
| 3 | RH2-Werder / Kessin / Altentreptow | 201 | Mecklenburg-Western Pomerania | 2001-2016 |
| 4 | Stößen-Teuchern | 183 | Saxony - Anhalt | 1999-2018 |
| 5 | Windpark Hüselitz | 151 | Saxony - Anhalt | 2015-2016 |
| 6 | Wangenheim-Hochheim-Ballstädt-Westhausen | 130 | Thuringia | 1999-2015 |
| 7 | Windpark Feldheim | 128 | Brandenburg | 1998-2019 |
| 8 | Esperstedt-Obhausen | 122 | Saxony - Anhalt | 2001-2013 |
| 9 | Biere-Borne | 109 | Saxony - Anhalt | 1999-2012 |
| 10 | Heidehof | 98+ | Brandenburg | 2006-2013 |
The rating includes wind power plants with an installed capacity of at least 100 MW.
Current trends in the development of wind energy
The cost of green electricity is regulated by the Renewable Energy Law (EEG).
Compensation for energy generated by wind farms was set directly by the federal government until the end of 2016.
With the adoption of the amendment to the law, from January 1, 2017, compensation is determined using a tender model. According to EEG 2017, operators must register new onshore wind power plants with a capacity of over 750 kilowatts through a tender process.
For 2020, the upper limit of the price for wind power through the tender was 6.20 cents per kWh.
Electricity must be sold only on the exchange (
spot market
). Moreover, since 2018, the Federal Network Agency has been holding joint tenders for solar systems and wind power systems twice a year. The basis for such tenders is the aforementioned EEG.
Since its peak in 2017, wind energy sector growth has slowed down every year.
According to the information currently available, the negative trend will not change in 2020.
Following the transition to a government-controlled tendering system, the construction of new wind farms in Germany has faced major challenges.
Further decline is expected in 2020.
The offshore wind energy sector is particularly weak in this regard.
Despite the entire package of climate protection measures, Germany's energy transition is under threat today. According to some reports, in 2021, the number of decommissioned wind turbines will for the first time exceed the number of wind turbines to be built.
Construction of offshore wind farms in Germany
The North Sea is the heart of European offshore wind energy.
We are seeing further expansion of this sector in German waters, mostly outside the 12-mile zone.
Most of the grid-connected, under-construction or planned wind projects are located in the North and Baltic Seas.
The first pilot offshore wind projects in Germany were commissioned in 2004 (
Enova Offshore Ems-Emden
), 2006 (
Offshore-Anlage Rostock
) and 2008 (
Hooksiel
).
Later in 2010, the Alpha-ventus Offshore Test Field was opened.
The construction of offshore wind farms in Germany (2013-2019) is shown in the table:
Year
Name of the project
Installed capacity, MW
2019
EnBW Hohe See
497
Deutsche Bucht
269
Merkur Offshore
396
2018
Borkum Riffgrund 2
450
Arkona
385
2017
Wikinger
350
Nordsee One
332
Nordergründe
111
Veja Mate
402
Sandbank
288
2016
Gode Wind 2
252
Gode Wind 1
330
2015
Amrumbank West
302
Riffgrund 1
312
Butendiek
288
Trianel Windpark Borkum
200
Nordsee Ost
295
Dan Tysk
288
Global Tech 1
400
Baltic 2
288
2014
Meerwind Süd / Ost
288
Riffgat
113
2013
Bard Offshore 1
400
In 2019, German companies commissioned 160 offshore wind turbines with a total capacity of 1,111 MW.
This corresponds to an increase of about 14% compared to 2018, when 970 MW was installed.
There are currently 1,470 offshore wind turbines in Germany with a total installed capacity of 7,500 MW.
Three offshore wind farms were fully built and commissioned in 2019.
These are Merkur Offshore (
396 MW, North Sea
), Deutsche Bucht (
269 MW, North Sea
) and EnBW Hohe See (
497 MW, North Sea
).
Senvion's financial problems have led to delays in the implementation of the Borkum II offshore wind project (
200 MW, North Sea
).
The project was not completed by the end of 2019, as investors had planned.
Combined, Germany's offshore wind farms generated about 24 billion kWh of electricity in 2019, up 27% over the previous year.
However, the sector is in decline in 2020.
Germany is currently building only one offshore wind farm EnBW Albatros (
112 MW, North Sea
). Upon completion of this project, the offshore wind energy development phase will end due to unfavorable conditions.
Despite all the difficulties, the fledgling industry has already undergone significant technical and economic development since the construction of the first offshore wind power plants.
While the average installed capacity of wind turbines by the end of 2018 was about 5 MW, this figure for new generators in 2018 exceeded 7 MW. Offshore wind turbines with a capacity of 10-12 MW are expected to enter the market in 2025, facilitated by an increase in the rotor diameter.
Since the Alpha Ventus went into operation in the North Sea in 2010, there were 22 fully self-contained wind farms in the North and Baltic Seas at the end of 2018.
Of these, 18 power plants with an installed capacity of 5.3 GW were located in the North Sea, and 4 wind farms with an installed capacity of 1.1 GW were in the Baltic Sea.
These figures clearly show that the potential for offshore wind energy development in Germany is quite high. However, the targets set by the federal government in EEG 2017 and the Law on the Development and Promotion of Wind Power at Sea (
Gesetz zur Entwicklung und Förderung der Windenergie auf See
) are quite ambitious.
Moreover, the Federal Government's climate protection program calls for an increase in installed capacity at sea to 20 GW by 2030.
A better legal framework should help accelerate the growth of offshore wind energy.
The new law regulates the conduct of a preliminary study of the water area, the procedure for tenders and the issuance of permits for the construction of offshore wind farms.
The largest wind turbine manufacturers in Germany
The list of the largest manufacturers of wind turbines in Germany is represented mainly by international companies that offer their products and services on the world market.
Despite the downturn in the domestic market, Germany remains one of the most important markets and provides thousands of jobs.
Below is a ranking of wind turbine manufacturers based on data from the Federal Network Agency. The date of commissioning is taken as the basis, not the date of installation of the turbine on site.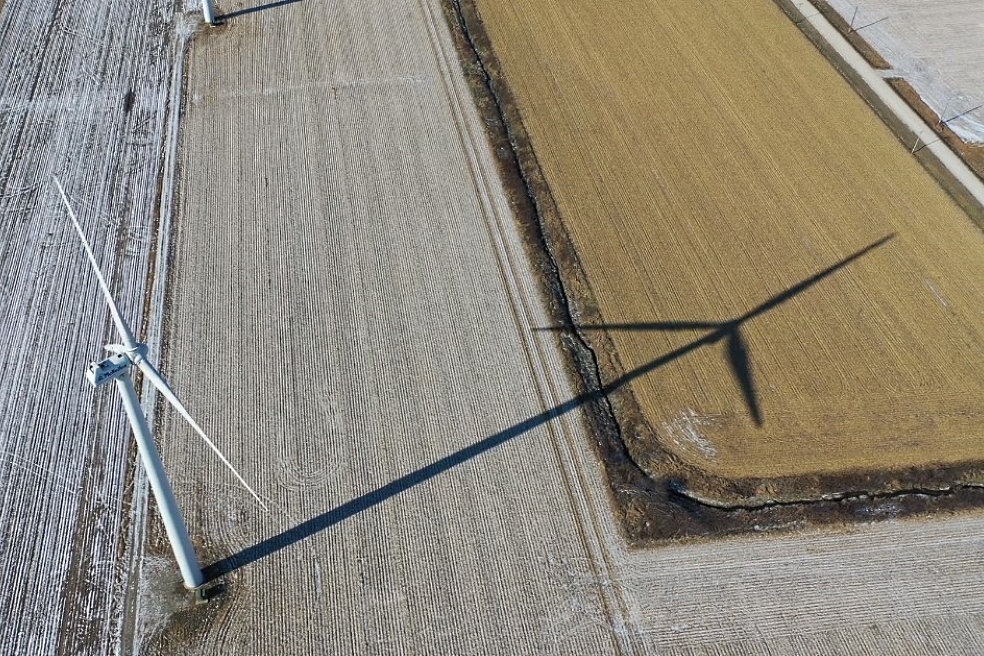 Ranking of wind turbine manufacturers in the German market in 2020 *:
| | | | | |
| --- | --- | --- | --- | --- |
| Rank | Company | Number of new wind turbines | Average turbine capacity, MW | Total installed capacity, MW |
| 1 | Vestas | 74 | 3,5 | 261,0 |
| 2 | Enercon | 96 | 2,7 | 256,8 |
| 3 | Nordex | 36 | 3,8 | 135,0 |
| 4 | Siemens | 16 | 7,4 | 117,6 |
| 5 | Senvion | 16 | 6,3 | 101,3 |
| 6 | General Electric | 26 | 3,3 | 86,2 |
| 7 | VENSYS Energy AG | 12 | 3,5 | 42,0 |
* - data for the period from January 1 to September 1, 2020.
Globally, German manufacturers are no longer playing the leading role due to the downturn in the domestic market.
In 2019, onshore and offshore wind power projects with a capacity of 61,000 MW were commissioned worldwide. This represents a 22% increase over 2018, when 50,000 MW was installed.
According to market analysis, Vestas remained the world's leading manufacturer of wind turbines in 2019. But the Danish wind power giant has had to face financial losses this year.
With a large number of projects in the offshore wind sector, the second largest manufacturer is currently Siemens Gamesa with a market share of almost 15%.
The third place was occupied by the Chinese manufacturer Goldwind (13.6%), ahead of GE Renewable Energy (12.1%) and other large Chinese company Envision (9.5%).
Together with Ming Yang, Windey and Shanghai Electric, Chinese manufacturers are ranked sixth, seventh and ninth in the world, driven by the explosive growth of the Chinese wind market.
German Enercon dropped out of the top 10 due to the collapse of the local market in 2019.
Wind turbine with largest rotor installed in Schleswig-Holstein
The first wind turbine of a new class with a rotor diameter of about 150 meters is installed in Peissen (
Schleswig-Holstein
).
According to the Federal Network Agency, the Nordex N149 wind turbine with a nominal capacity of 4.5 megawatts and a height of 200 m was put into operation on September 4, 2020.
The giant wind turbine is located 1.7 km from the nearest detached house and about 2.3 km from the nearest settlement. The unique facility is connected to the Reher III wind farm, which consists of two Nordex N117 wind generators with a capacity of 3 MW each.
This is another testament to Germany's technological superiority in the field of renewable energy. Despite some temporary political and economic difficulties in the implementation of wind projects, Germany remains one of the world leaders in the field of wind energy.
Our team is ready to offer financing for your energy projects in Germany and other countries of Europe and the world on a turnkey basis.
To find out more about our offer, please contact us at any time.
Requirements for the construction of wind farms in Germany
According to the Federal Building Code (BauGB), wind turbines should only be built outside populated areas if there is no conflict with any public interest.
However, the federal states and municipalities can themselves designate territories specifically for wind energy in order to prevent "spontaneous growth" of the sector. As a rule, the construction of wind farms in Germany is only allowed in the areas designated by the local authorities.
The installation of wind turbines over 50 meters in height requires a permit under the Federal Emission Control Act (BimSchG) issued by the licensing authority. To obtain permits for the construction of a wind power plant, it is necessary to comply with building codes and local requirements.
Wind turbines make noise that can affect people.
Noise pollution during the operation of wind turbines occurs due to aerodynamic effects (
turbulent flows
) and as a result of friction between parts, including in the gearbox.
Thanks to the latest technical developments, the noise exposure to people has been significantly reduced compared to previous generations of wind turbines.
To regulate the requirements for wind farms, the federal government publishes regulations that must be followed by licensing authorities. This administrative regulation is the "Technical instructions for noise protection" (
Technische Anleitung zum Schutz gegen Lärm
).
TA Lärm define limits for certain categories of territories that cannot be exceeded.
Light exposure such as shadows or the so-called disco effect is no longer a problem today. Due to the size of modern wind turbines, they are usually built so far from settlements that their shadows do not affect residential buildings. Previously, the disco effect was caused by light reflections on the rotor blades. This effect is not seen in modern wind turbines as they have a matte finish.
Aircraft obstacle lighting is mandatory for any structure over 100 meters high.
The controlled lighting of wind turbines can significantly reduce light exposure without creating any hazard to air traffic. In addition, innovative systems are being developed today to illuminate the blades only when an aircraft approaches.
The risk of icing in Germany is generally low. Meanwhile, the use of heated blades or automatic shutdown of wind turbines in case of icing is mandatory.
As is the case with all engineering systems, the construction of wind power plants is a gross intervention in nature and landscape. Therefore, it is necessary from the very beginning to determine the locations of future wind turbines with minimal damage to the environment.
The most suitable areas for wind turbine installations are those with roads and power lines that will require minimal construction work.
To limit damage to plants, animals and their habitats,
wind power plants
should not be built in protected areas.
Wind power does not harm most animal species.
However, some species of birds and bats flying at high altitudes can collide with wind turbines.
Therefore, during construction, companies must develop plans for environmental protection measures.
The construction of wind power plant under the
EPC contract
implies the full responsibility of the contractor, so the customer has nothing to worry about.
How much does it cost to build a wind power plant
The main investment costs in the construction of wind farms in Germany are the purchase of the turbine, its transportation and installation.
According to data provided by local wind turbine manufacturers in 2015-2017, this figure is roughly 0.9-1.2 million euros per megawatt.
It should be noted that the cost of a megawatt of installed capacity decreases as the size of the wind turbine increases. Power plants with larger turbines are usually a more cost effective solution, both in terms of construction and maintenance.
Additional investments can vary from 200 to 500 thousand euros per megawatt of installed capacity. These costs are associated with the purchase and installation of auxiliary equipment, development of the territory, etc.
This is the least predictable item of costs, which varies considerably.
The global trend is that the construction and operation of wind power plants is getting cheaper every year.
If you need financing for a wind farm in Germany, please contact us
.