Modern energy systems are complex multicomponent systems using mechanical, thermal and electric energy.
They serve different industrial and domestic purposes, satisfying the needs of the consumer in the most efficient way.
Energy engineering is an interdisciplinary field, which combines aspects of mechanical, chemical and electrical engineering, as well as modern achievements in energy management.
Our partners in energy systems engineering are engaged in the design of alternative energy sources, increasing business energy efficiency, as well as improving the environmental performance of industrial and municipal facilities.
When developing new technological solutions and optimizing existing systems, engineers must take into account a whole range of technical, economic and environmental factors that affect the functioning of a particular facility.
These factors include:
•
Technical factors
. Each energy system requires optimization of energy consumption, whether it be the sun, wind, geothermal energy, fossil fuels or other sources.
•
Economic factors
. Regardless of the type and scale of the project, a business always sets specific financial and economic goals. All technical solutions during the design and modernization of energy systems should be aimed at achieving these goals.
•
Environmental factors
. Any energy system interacts with the environment, so minimizing possible damage to the environment and human health is becoming increasingly important. In particular, modern companies seek to use renewable energy more actively.
ESFC offers a full range of services in the field of energy engineering, including the construction of distribution substations and networks, the design of solar, wind and geothermal power plants, biomass heating systems and other highly efficient energy solutions.
If you are interested in engineering services to improve the energy efficiency of your business or introduce renewable energy sources, contact our consultants at any time.
Energy engineering
Economic aspects play a crucial role in the implementation of any investment project.
For example, construction costs include component costs, fuel costs, maintenance, and more.
Due to rising prices for natural resources, energy saving is becoming the main business problem. Our experts have accumulated rich experience in this area.
The services of
our partners
are constantly used by large corporate clients in Western Europe, Africa, South America and the Middle East.
Development of an energy management program
After analyzing the structure of energy consumption, experts model different options for energy saving.
A comprehensive analysis should take into account the estimated return on investment with the expected energy savings. Using the results of a detailed feasibility study, the most suitable model for a particular client is selected.
The key to developing an energy management program is to set a clear goal for energy savings. For example, a 30% reduction in electricity or natural gas consumption over a two-year period. The program should be divided into long-term, medium-term or short-term plans, covering all the energy systems of the facility.
The greatest technical and economic potential in terms of energy conservation has the modernization of the power grid, electric drives, compressed air systems and cooling systems, pump and ventilation systems. Much attention is also paid to the modernization of lighting systems.
Modernization of electrical substations and distribution networks
Loss of electrical energy during transmission is a serious problem for our customers.
Therefore, the modernization of electrical distribution networks and improving the efficiency of substations has become an important area of our engineering services.
Innovative digital technology offers opportunities for modernization. This creates a qualitatively new electrical infrastructure that can efficiently process large amounts of data.
The results of the modernization of substations and distribution networks look inspiring:
•
expanding monitoring capabilities:
operators are approaching a point where they can get a complete picture of the network status on the screen;
•
improvement of control:
the ability to bring the distribution network to the desired indicators in the shortest possible time;
•
high degree of automation:
the ability of companies to adapt to rapidly changing conditions automatically, without human intervention;
•
improved integration:
connecting isolated systems and processes can provide more significant business benefits.
We offer engineering services for the design, construction and modernization of energy systems of any type in accordance with modern standards.
Improving the energy efficiency of industrial facilities
Energy efficiency is defined as using less energy to achieve the same and even higher performance.
In addition to the obvious savings, more and more experts believe that improving the energy efficiency of industrial enterprises is the most important step to reduce greenhouse gas emissions.
Studies show that modern technology has the potential to reduce energy consumption in industry by 20%. These are huge numbers, given that industry accounts for 25% of global carbon emissions.
But most importantly, energy-efficient technologies contribute to increasing the competitiveness and productivity of a business. Our electrical engineering specialists achieve this goal by reviewing the entire process and implementing the best available technology (BAT).
Practical experience shows that plants can save from 10 to 30% of their annual energy consumption and, therefore, reduce their operating costs due to better energy management.
The introduction of innovative energy management solutions also contributes to the overall optimization of industrial systems. ESFC is ready to offer the best solutions for your business.
Modernization of industrial lighting
Industrial facilities consume a huge amount of energy, much of which is spent on lighting. Adequate lighting increases productivity, ensures the safe operation of machines, improves product quality and reduces the risk of accidents.
However, the efficiency of lighting systems in many factories is far from ideal. This situation negatively affects the economic and environmental performance of the business.
Methods for improving the energy efficiency of industrial lighting include:
• installation of LED lamps;
• maximum use of natural daylight;
• optimal configuration of the lighting system and its elements;
• effective lighting system control at the local level.
Renewable energy systems engineering
Over the twentieth century, the use of fossil fuels in the world has increased approximately 20 times.
Most of the electricity is now produced by burning fossil fuels, primarily oil, gas and coal.
According to geologists, the proven fuel reserves will be exhausted after a maximum of 100-120 years.
It is becoming increasingly difficult to produce fossil fuels, and the environmental risks associated with drilling and mining are increasing every decade.
As fossil fuels decline, investor interest in renewable energy around the world is increasing. Renewable energy sources (RES) are not depleted. Renewable energy includes solar, wind, geothermal, water and tidal energy, as well as energy produced from biomass.
The use of renewable energy reduces the dependence of the business on fossil fuels, diversifies energy sources and minimizes greenhouse gas emissions.
Despite the many advantages, some renewable energy technologies are limited in use today due to the high cost of generation. For the effective implementation of such projects, large contractors with rich experience and modern technologies are required.
We offer a full range of renewable energy systems engineering services. We build solar farms, wind farms, hydroelectric power stations, geothermal stations and other facilities.
Solar energy systems engineering
Photovoltaic systems have long been part of everyday life.
Solar energy
is supplied to a wide range of small and large consumers, from apartments to factories.
The sun as a source of energy is very attractive for a number of reasons. This is a widely available, free and almost inexhaustible source of energy that does not lead to environmental pollution and climatic anomalies.
Current trends in solar energy
Any fluctuation in oil prices in international markets will shift the attention of investors, politicians and economists to renewable energy sources. In recent years, solar energy has taken its rightful place in the market, displacing other widely used, traditional sources of electrical energy.
Although it is difficult for solar energy systems to compete with thermal or nuclear power plants, the technology is rapidly improving and becoming more accessible.
Solar energy has a number of significant advantages over fossil fuels and nuclear energy. First of all, the construction of a solar power plant is much faster, since photovoltaic modules are easy to install and connect.
Choosing the location of photovoltaic systems is much easier compared to thermal or hydroelectric power plants. The construction of small solar power plants in remote locations prevents electrical losses that are inevitable when transmitting energy over long distances.
Photovoltaic systems do not consume fossil fuels and do not generate noise. They are relatively simple and cheap to operate and maintain. Unlike traditional power plants, a modular energy system can easily be expanded to meet increased consumption.
It is important that solar power plants do not pollute air and water, maintaining ecological balance. Due to their environmental safety, solar energy production is stimulated by various government initiatives in developed countries.
Our solar power solutions
Photovoltaic power station is an extremely effective solution for consumers who use small amounts of electricity mainly during the day.
These are primarily small and medium-sized industrial facilities with a daily work cycle, as well as commercial centers and municipal facilities.
We have extensive experience in the design, construction and modernization of various types of solar power plants in Africa, South America and the Middle East.
Our services include:
•
General planning and feasibility study.
Our experts will choose the right type of power station for your business. We will also prepare a detailed feasibility study and other calculations necessary to obtain official permits and attract financing.
•
Design of solar energy systems.
The optimal design of the plant is key to achieving maximum efficiency of power generation and reliable power supply to the enterprise. We are also responsible for the procurement and installation of all components.
•
Construction of a solar power station.
We are involved in all stages of construction, ensuring compliance with safety requirements and other applicable standards.
•
Testing and commissioning.
We are engaged in technical maintenance at all stages, staff training and inspection of energy systems.
Design and construction of large solar power plants is a complex multi-stage projects that require huge investments. We are ready to accompany you at all stages of this process, providing professional support and advice.
Wind energy systems engineering
In recent years, the use of
wind energy
has become the fastest growing industry in the world of energy. This is due to the renewable nature of wind energy, its environmental benefits and declining prices for wind turbines per unit of capacity.
It is expected that in the near future the cost of wind energy will be the lowest compared to all other sources of electricity from environmentally friendly and fully renewable energy sources.
The environmental benefits of wind farms are noteworthy. Wind energy systems do not pollute the environment and do not create toxic emissions. This minimizes the consequences associated with the extraction, refining, transportation and burning of oil, coal and other fossil fuels.
Minimum costs, economy, environmental friendliness, safety and ease of maintenance of equipment have made the wind an attractive source of energy for investors.
Current trends in wind energy
Hybrid wind and solar systems are gaining in popularity due to the balanced production of electricity regardless of the time of year.
According to industry experts, the construction of wind farms in the ocean will be a major trend in the coming years. That is why in the past few years, most large companies have concentrated their efforts on developing the so-called offshore wind turbines.
The design of these systems requires innovative approaches to solving a number of problems, including the deep-sea foundations and floating platforms. One of the advantages of floating platforms is the fact that they can be built at a considerable distance from the coast.
In recent years, high-altitude wind turbines have also been actively developed that use a constant wind speed at significant altitudes.
Our wind energy solutions
Wind energy systems engineering requires the highest professionalism, since we are talking about complex structures with numerous moving parts. Energy generation efficiency, project profitability, safety and durability of equipment depend on the skills of engineers.
Air drives the rotor as a result of pressure differences on the surfaces of the propellers. This is a simple principle, but behind the apparent simplicity of the design hides complex technical calculations, computer modeling and many years of experience.
ESFC with partners is engaged in the design and construction of wind farms:
• planning and preparing a feasibility study for the project;
• detailed design of equipment according to customer needs;
• procurement and delivery of components, construction and installation;
• optimization, testing and commissioning;
• monitoring and maintenance;
• customer staff training.
We have implemented a number of successful wind energy projects in Brazil, Bolivia, Nicaragua and other countries.
We are ready to use our experience for your business anywhere in the world, regardless of the complexity and scale of the project.
Renewable energy heating systems for community and industry
In the past few decades, renewable energies have been developing rapidly. Improving the efficiency of heating systems using this type of energy is an important engineering task.
Currently, fossil fuels, such as coal and natural gas, are widely used for heating systems. Thermal energy now accounts for most of the world's energy consumption.
Reducing emissions from heating systems is based on the implementation of the best available technologies. The modernization of such facilities is associated with increased energy efficiency and the transition to the use of renewable energy sources.
In the longer term, a significant reduction in carbon emissions from district heating systems and industry will require the introduction of innovative low-carbon processes. Switching to renewable energy for district heating systems can lead to an improvement in the environmental situation.
An important step in solving economic and environmental problems is the rational and efficient use of energy. The use of biomass heat, solar and geothermal energy, as well as waste heat from the industry is a very attractive approach. ESFC offers engineering services for renewable energy systems for industrial facilities and the community.
Biomass energy systems
Biomass is considered one of the safest and most economically significant renewable sources of electricity and heat. The use of biomass as a substitute for fossil fuels is growing steadily due to its wide availability.
The term "biomass" describes a wide range of materials, but only a few of its types are suitable for the production of thermal energy. We are talking about biomass produced by agriculture, wood processing and food production.
In developing countries, a very small percentage of this waste is used to generate heat. Therefore, the engineering of biomass energy systems is of interest to investors around the world.
A significant proportion of such projects are focused on the production of heat from wood and wood waste. The amount of investment in these cases is small, and the high efficiency of the plants and the combined production of electric energy and heat provide attractive economic indicators for the investment project.
Biomass boilers are often built to burn wood processing waste and other organic waste. In many EU countries, biomass has become an important source of energy for heating large cities. Modern biofuel systems are as diverse as the biofuels themselves.
Municipal solid waste can also be used for heat production in district heating systems. They are characterized by a diverse chemical composition, high humidity (more than 20%), as well as low energy density (about thirty times less than coal).
To exclude high transportation costs, municipal solid waste is usually incinerated in special facilities at the collection point. New technologies are currently being developed for the incineration of municipal solid waste in conventional boilers.
This requires special equipment for sorting, grinding, drying and other processing methods.
With extensive experience in the design of waste recycling and incineration plants, company can offer cost-effective solutions for the use of municipal solid waste, including heating systems.
We are engaged in the engineering of biomass energy systems of all types.
Geothermal energy systems
Saturated steam or hot water is used to produce heat.
The main source of energy is sedimentary basins near settlements, which can be used as heat sources for district heating systems.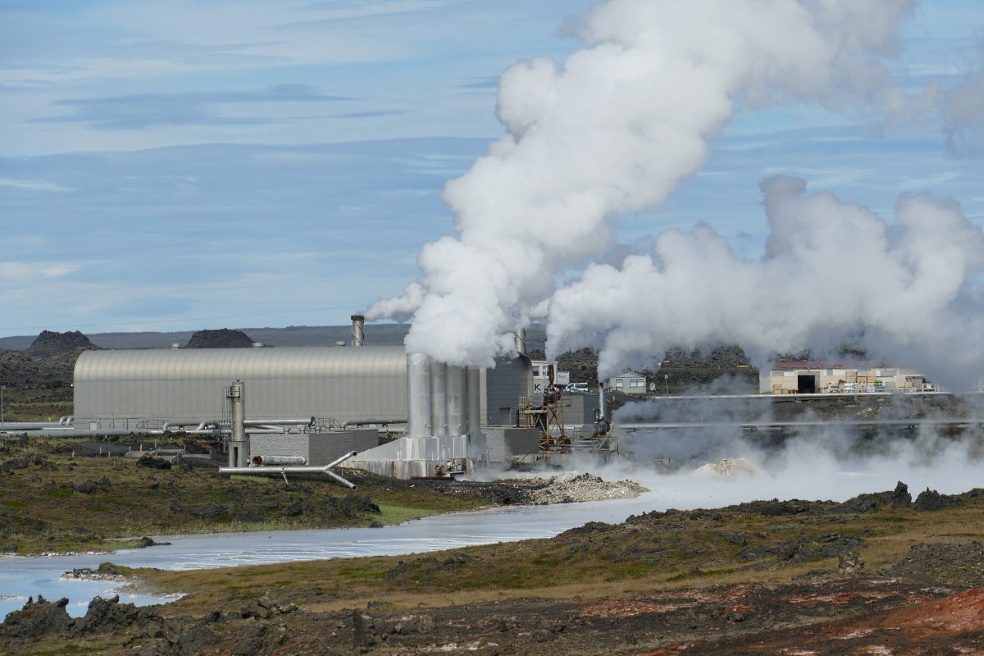 Geothermal heating systems have many potential benefits.
The choice of a specific technology depends on the temperature of the liquid and the method of application. There are two main methods for generating heat: direct heat transfer or heating using heat pumps.
The use of heat pumps is often considered when the temperature of the liquid is insufficient. The potential of geothermal energy for district heating is significant, which can be seen in well-developed networks in many parts of the world.
Geothermal energy systems engineering is actively developing in North America, Europe and East Asia. In Europe alone, there are more than 250 district heating systems using geothermal energy.
Solar heating systems
Solar energy has been successfully used to heat water.
Although it is only a small part of the global energy market, lowering the cost of solar collectors means that more and more consumers can take advantage of the new technology.
The integration of solar collectors in the district heating network is a relatively innovative practice, which is currently showing rapid growth worldwide.
During warmer periods, solar heating systems can completely replace other energy sources, including fossil fuels. Innovative technologies allow heat storage for use in cold periods.
Solar systems for district heating are huge installations with hundreds of collectors. For this application, special large collectors have been developed suitable for higher loads. For small private installations, conventional solar collectors can be used.
Our company and partners specialize in the engineering of solar heating systems of various types and sizes.
Waste heat recovery systems
A significant part of energy-intensive industrial enterprises is located in close proximity to large cities. Technological processes in various industries are accompanied by emissions of exhaust gases, air, steam and smoke. Waste heat can be used as an energy source in other processes.
Waste heat energy systems use different operating principles. The determining factors when choosing a technology are the temperature, quantity and chemical composition of the carrier, as well as consumer requirements.
A significant increase in the energy efficiency of industrial facilities can be achieved through the full use of low-grade waste heat. This option, as a rule, is simpler and more cost-effective than using waste heat to generate electricity.
Engineering services: EPC contracts
Services include the design of renewable energy systems, inspection, the development of control systems, improving the energy efficiency of industrial production processes and much more.
Design of the following objects:
• electrical substations of various types;
• integrated monitoring systems;
• solar photovoltaic plants and hybrid power plants;
• combined cycle plants of various types;
• geothermal power plants;
• biomass power plants;
• wind power plants;
• thermal power plants;
• hydroelectric power plants.
For more than 20 years, energy-efficient technologies have been successfully introduced for municipal and industrial facilities.
To learn more about energy engineering services, contact our consultants at any time.
We will be happy to answer any questions and provide comprehensive advice on your project.