The potential for solar radiation is 8,000 times greater than global energy needs.
This means that 1% of the Sahara's area is sufficient to meet global needs using solar thermal energy.
The construction of highly-effective solar thermal power plants in developing countries offers unlimited economic opportunities for local industry and communities.
The benefits of solar thermal energy for businesses include:
• renewable energy source;
• reduction in dependence on fossil fuels;
• solar energy is completely safe for the environment;
• the possibility of combining with other systems;
• well-studied and reliable technologies;
• compact equipment;
• high payback.
Thermal power plants with parabolic collectors are already widely used in the USA, Spain and other countries.
In these systems, parabolic mirrors concentrate the sun's rays on the receiver tube through which the heat transfer fluid passes.
Heated liquid is supplied to the generator unit, where heat is used to evaporate water. Steam drives the turbines and generates electricity. Although the technology is used commercially, research in this area still continues to optimize system components.
More than 95% of existing solar thermal
power plants
operate with parabolic concentrators.
Fresnel systems, which are much cheaper and easier to maintain, are an interesting alternative to parabolic systems. The global capacity of such plants is currently estimated at more than 50 MW.
We and our partners are engaged in the financing and construction of solar thermal power plants under the EPC contract.
Experts carry out a feasibility study, detailed design, equipment procurement, installation and configuration of all components.
We offer alternative energy generation technologies that are affordable and attractive to customers. Our work is aimed at reducing costs by improving the design and automation of the operation and maintenance of energy systems.
Design of solar thermal power plants
Several types of solar thermal power plants can be distinguished, depending on the design of the concentrators.
In systems with a linear focus, including parabolic concentrators and concentrators on Fresnel lenses, heliostats track the sun along the axis and focus the rays on the receiver tube.
Tower systems use a large number of heliostats that focus sunlight on a single receiver located at the top of the central tower.
In general, the main advantage of solar thermal power plants is the ability to integrate thermal energy storage systems, which ensures a stable energy supply in in cloudy weather or at night.
Currently, the heat generated is usually converted into electrical energy using steam turbines. This solution is especially effective for installations with a capacity of more than 10 MW.
In each case, an individual approach to the design and construction of such plants is used. Engineers will offer the best technical solution based on your requirements to the energy project.
Parabolic solar concentrators
Solar collectors are usually located from north to south, so that soon after sunrise the light from the low-lying sun falls on the concentrators.
Throughout the day, the rays will fall on the collector at an increasingly acute angle, continuing to focus on the receiver tube.
This design reduces the energy loss of solar radiation per unit area. In addition, the reflected rays on the top of the collector may not hit the receiving tube. To minimize these losses, parabolic collectors are constructed as long as possible.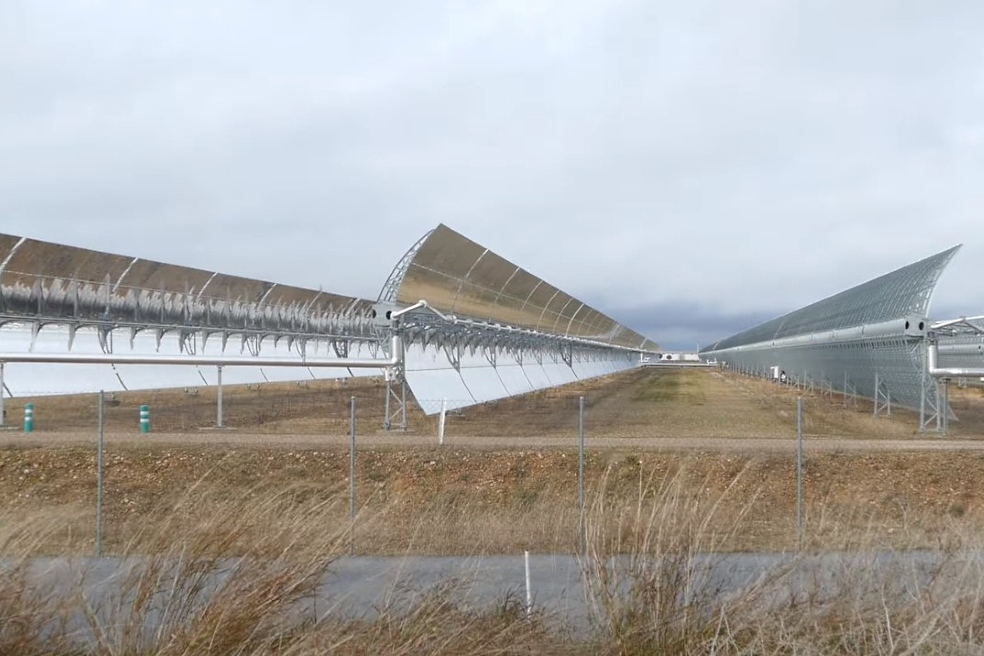 How to increase energy generation in parabolic concentrators?
We can offer many solutions.
The effectiveness of concentrators largely depends on the quality of reflective surfaces, as well as on the parabolic shape. In the case of the slightest deviation, the rays will not fall on the receiver tube.
To achieve maximum efficiency, the solar concentrator must constantly follow the sun.
Hydraulic systems are usually used to move large elements, but the specific technical solution will depend on many factors.
Heliostats are usually controlled by sensors that determine the position of the collectors relative to the sun, as well as using special software.
Energy generation by solar thermal power plants largely depends on the coating materials and the composition of the heat transfer fluid.
To prevent heat loss in the ambient air, the receiver tube is placed in a vacuum jacket.
Among the many possible solutions, engineers have to choose the most suitable for each situation, for certain operating conditions.
Direct solar steam generation power plant
Direct steam generation optimizes the operating temperature, saves the components of the oil system, and reduces the associated economic costs.
The technological problem is that the entire system must withstand the high pressure of about 100 bar required for the operation of the turbines. There may also be problems with process control and thermomechanical loads.
During the design process, engineers must solve numerous problems.
The operation of solar steam generators is associated with a significant heat load on the tube, which requires careful choosing of materials and special design solutions (for example, preheating the supplied water).
Since steam storage systems remain expensive, direct solar steam generators are currently only suitable for small local heating systems, as well as for hybrid power plants using fossil fuels and solar energy.
However, technical flexibility contributes to the wider use of solar energy in combined cycle thermal power plants. Innovative concepts of fuel economy and reduction of carbon dioxide emissions at coal-fired power plants are being developed.
Each client has unique requirements.
ESFC
specialists can offer any financial and
engineering
solutions tailored for your business.
Linear Fresnel collectors
Fresnel collectors are linear concentrating systems with receivers, which, unlike parabolic systems, do not track the sun. Mirror segments tilted close to the surface of the earth concentrate sunlight in receivers mounted directly above the mirrors.
Depending on the design, the mirrors may be flat or slightly curved. The receiver is a metal tube with a selective absorbing coating to minimize possible losses during energy conversion.
Production of Fresnel collectors is usually cheaper than parabolic collectors. Because mirrors are mounted close to the ground, they are very easy to clean and maintain.
In addition, due to the reduced wind load, these structures do not require complex mechanical support. The load on the foundations is also low, so the total cost of constructing solar thermal power plants is significantly reduced.
However, a simpler and cheaper design also has its drawbacks compared to a parabolic collector of the same size.
The annual energy output of the Fresnel collector is approximately 70% less than that of a similar parabolic system.
Large morning and evening losses mean that Fresnel collectors do not provide stable generation of electrical energy throughout the day. All these pros and cons should be considered when choosing a solar energy system for a particular municipal, commercial or industrial facility.
How much does it cost to build a solar thermal power plant?
The cost of a solar thermal power plant varies depending on its location, exact configuration, equipment selection and capacity.
On average, a 50 MW solar thermal power plant, the most common option in Europe, costs 400.000-450.000 euros per MW of installed capacity.
If we are talking about an advanced power plant, which is able to accumulate up to 1000 MWh of thermal energy, the cost of construction increases to 550.000-650.000 euros for each MW of installed capacity.
Consequently, the construction of a 50 MW power plant without the possibility of heat storage is about 200-220 million euros, compared with 270-320 million euros for solar thermal power plants of similar capacity with heat storage based on a system of molten inorganic salts.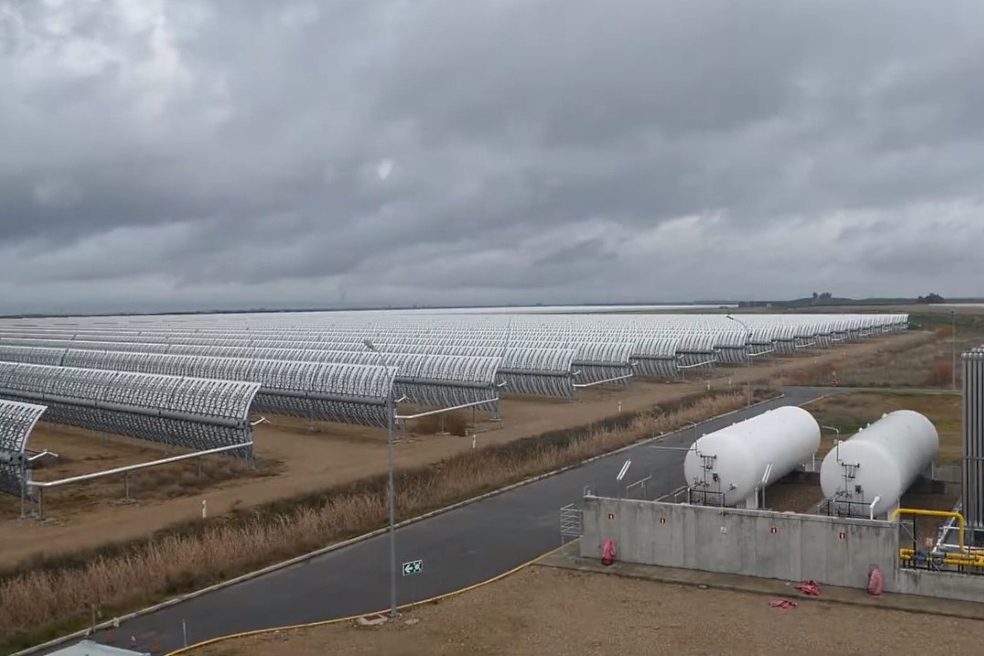 Of course, the indicated price is approximate.
It should be borne in mind that each project is individual. In addition, the cost of constructing such facilities is rapidly decreasing as a result of cheaper solar technologies.
Currently, there is a tendency to reduce the cost of basic equipment in solar energy, including the cost of absorber tubes, solar panels and other components. At the same time, mature well-developed technologies, such as transformers, change little in price.
This cost includes the design, obtaining permits for the construction and rental of land, the purchase and supply of equipment and materials, the installation of components, as well as a number of additional variable costs.
The total cost of a solar thermal power plant depends on the cost of collecting and supplying water, the construction of an electrical substation and power lines, as well as the purchase (rent) price of a land plot.
Types of solar thermal energy systems
| | |
| --- | --- |
| Type of system | General characteristics |
| Low temperature systems | Water is heated below the boiling point, i.e. up to 100ºC. Most equipment based on this technology is used to produce hot water and heat air. |
| Medium temperature systems | These systems are used where heating requires temperatures from 100 to 300ºC, including heat supply in industrial processes and steam production. |
| High temperature systems | Temperatures from 250-300ºC are used to produce steam or generate electricity in solar thermal power plants. |
Construction of solar thermal power plants: our services
Are you looking for a EPC contractor who will undertake a feasibility study, design, equipment procurement, construction and quality management, testing and commissioning of solar thermal power plant?
Do you need a reliable partner to expand existing energy systems?
ESFC will help your business in the implementation of solar energy projects of any complexity, including obtaining the permits for construction and operation in your country or abroad.
ESFC offers financing and an EPC contract for the construction of a solar thermal power plant, which implies our full responsibility for all stages from design and procurement to construction and installation works.
Our company bears full financial responsibility, guaranteeing the fulfillment of obligations for the implementation of the energy project from A to Z.
The benefits of an EPC contract for your business are obvious:
• fixed cost of the project without any unforeseen expenses;
• adherence to the construction and commissioning schedule in accordance with the contract;
• minimal customer involvement, which saves the time of your employees;
• the principle of a single window, which greatly simplifies control of the project.
We and our partners have extensive experience in financing and construction of solar thermal power plants.
We are ready to share our knowledge.
Contact us anytime to find out more.