Substations are a complex facility involved in the transmission and distribution of electricity.
There are many types of substations including distribution, transmission, collector, converter, etc.
Their complex technical structure implies the presence of many basic and auxiliary elements.
The construction of electrical substations, like the construction of any other industrial facility, consists of several stages: survey, design, civil works, electrical work, testing and commissioning.
This process is carried out by a multidisciplinary team of
specialists
using modern equipment, extensive experience and technical knowledge in various fields.
Our specialists, together with partners, implement new projects, as well as modernizing existing substations of any type.
Electrical substation construction
The construction of an electrical substation typically includes several stages:
• preparation of the construction site and earthwork;
• laying the foundation and supply of external networks;
• construction of supporting metal structures;
• assembly and installation of electrical equipment;
• installation and configuration of auxiliary systems;
• landscaping and cleaning construction waste;
• testing and commissioning.
The main elements of the electrical substation are a power transformer, cable lines, low and high voltage switchgears, bus systems and much more.
Another important element is its own power supply system, which includes transformers, AC and DC panels, as well as capacitor banks.
An important stage in the construction process is the design of safety and control systems, automation and grounding systems, lightning protection, control equipment and reactive power compensation systems.
Auxiliary systems include lighting, ventilation, air conditioning and fire protection systems.
Construction of high voltage electrical substations
Ultra-high-voltage and high-voltage substations are powered by high-voltage power lines, which are used to import and export electricity over long distances.
Standards for such substations vary by country.
For example, in the countries of Eastern Europe and the former USSR high-voltage substations are designed for voltage of 1250 kV, 750 kV or 400 kV.
They almost always have a synchronous compensator (50-100 MVA) or more to compensate for reactive power. High voltage electrical substations are usually staffed by highly qualified personnel. The remote and telemetry information system is also very developed.
They consist of two or three high-voltage and ultra-high-voltage switchgears. High voltage levels require the use of powerful high-voltage devices to switch their circuits. To reduce the overall dimensions of the substation, switchgears with insulating media with good thermal conductivity (oil) are usually used.
Our company offers financing and construction of ultra-high voltage and high voltage substations and other facilities around the world in accordance with local regulations.
Construction of local area substations
Local area substations are connected directly to power plants or to high-voltage substations through overhead or underground power lines.
These facilities provide energy to local areas with a large number of consumers.
Modern technologies allow you to build these objects both in an open area, and in densely built-up urban areas. The number of busbars and other technical features of local substations are determined by the type, quantity and characteristics of electricity consumers.
In terms of functionality, local electrical substations are divided into transmission, converter substations, etc. Complete transformer substations (MCTS and CCTS) are also widely used, which directly supply electric power to apartment buildings, industrial enterprises and other facilities.
ESFC offers a full range of services for the financing and construction of local electrical substations, as well as their modernization, repair and maintenance
.
New approaches to the construction of electrical substations
Advances in science have contributed to the implementation of energy-efficient, economical and safe technologies for the design and construction of electrical networks and substations.
We and our partners are actively introducing innovative technologies and approaches to the construction of electrical substations, which have already demonstrated success in other energy projects.
Our company is developing rapidly along with the global energy industry, so every new project meets modern requirements.
We have extensive experience in implementing capital-intensive projects around the world, including Iran, Algeria, Ecuador, Honduras and other countries.
Smart grids and substations
The so-called smart grids and smart substations optimize communication between different distribution systems, renewable energy sources and consumers.
These intelligent technical solutions create all the necessary conditions for the distribution of a large amount of energy in one network. Smart electrical substations use a much larger number of switches than conventional ones.
Typically, these objects are very compact and efficient.
They have integrated monitoring and control systems, and continuous monitoring provides a very good level of optimization. Such facilities have numerous advantages, including high stability, weather resistance and excellent performance.
Smart grids and substations always use remote control. Systems are fully automated and self-updating, while remote control significantly reduces downtime and optimizes load.
The development of smart grids has led to the wider use of computer technology and equipment in the construction of modern electrical substations.
SCADA system
Providing fast and accurate information about the energy system requires significant resources, so modern electrical substations use new automated solutions.
Among them, the SCADA system (Supervisory Control And Data Acquisition).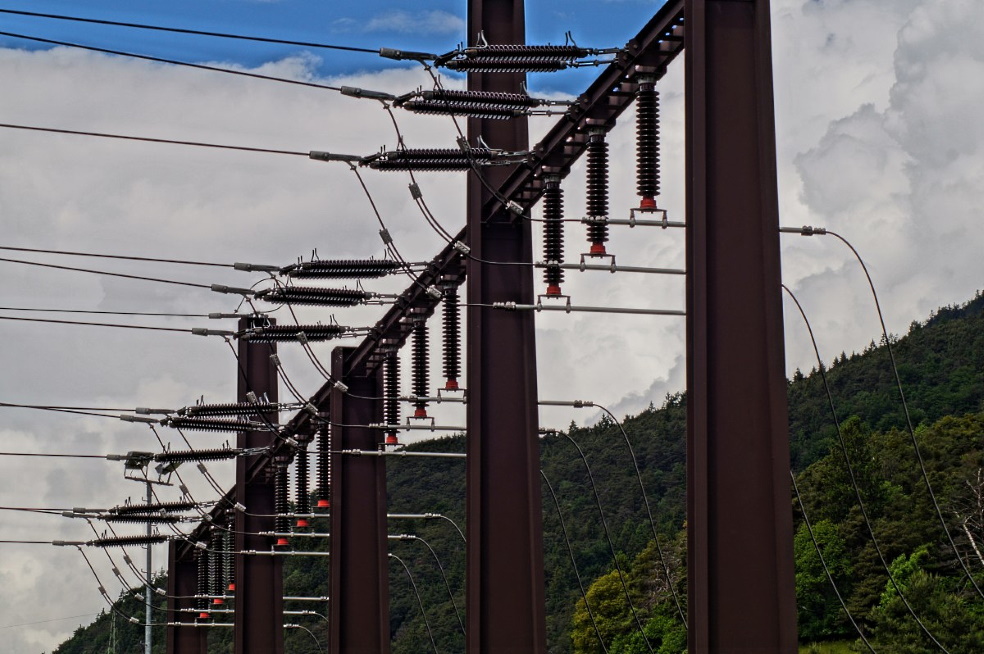 This system serves to control the position of switching devices, circuit breakers, and disconnectors; control the current parameters of individual phases; control voltage on the bus and much more.
An automated system collects all the parameters of the substation. Modern equipment immediately informs operators of emergency situations, including breakdowns, unauthorized entry into the facility and much more. Data is collected automatically or at the request of the operator.
The use of modern automated systems ensures reliable and efficient operation of the substation.
SF6 gas-insulated switchgears
With the development of gas-insulated switchgear technology, the approach to the construction of electrical substations has changed significantly. This is an innovative technology in which all equipment is placed in a sealed metal case filled with SF6 gas (sulfur hexafluoride).
Since the 2000s, this technology has made it possible to seal equipment with voltages up to 750 kV. Due to the highest degree of equipment integration, modern substations take up much less space and practically do not require periodic maintenance.
High-voltage vacuum switchgears
Vacuum technology has shown even better results than using air, gas or oil. High-voltage vacuum switchgears are safer and more reliable in situations where trips often occur, including a short circuit. The advantage of vacuum switchgears is that they are almost maintenance free.
The dielectric strength of a vacuum is 8 times higher than that of air, and 4 times higher than that of gas at a pressure of 1 bar. Due to this, the distance between the open contacts can be quite short, up to 8 mm at 35 kV.
In addition, the dielectric strength of the vacuum is quickly restored after the arc is completely extinguished. This technology has been successfully used for capacitor banks.
Vacuum switchgears do not harm the environment, consume little energy and have a high reliability.
They do not require significant maintenance costs, but, as a rule, they are expensive. In each case, the solution must be selected individually, based on the requirements of a particular project.
High-voltage hybrid switchgears
In recent years,
engineering
companies have been actively using high-voltage hybrid switchgears in the construction of electrical substations.
These devices combine the benefits of vacuum and gas technology. The arc resistance of a gas is much higher than that of a vacuum. Therefore, in hybrid models, gas is the main medium, and vacuum is used to completely turn off the current.
Recently, attempts have been made to develop a mechanism for controlling a hybrid switchgears that would have better control. Modern devices of this type synchronize and coordinate the movements of individual modules in less than a millisecond.
Thanks to the different operating modes, hybrid solutions are extremely efficient.
Modernization of electrical substations
As technology advances, the reliability of power supply systems becomes paramount.
Companies that operate substations expect increased efficiency, maintainability, reliability and safety.
Outdated electrical substations mean frequent breakdowns, long downtime, significant electrical losses and high maintenance and repair costs.
The reliability problem manifests itself when equipment with different levels of reliability is installed at substations during modernization. Operation of such equipment without regard to interoperability leads to significant risks, including economic ones.
A systematic approach and integrated project implementation with the maximum automation of all processes are fundamental principles of our services in the field of design and construction of substations.
ESFC, with partners, develops all substations with an emphasis on reliability, efficiency and safety.
One of the areas of work is the modernization of electrical substations, including the introduction of digital technologies, automated control systems and modern high-voltage devices.
The rapid development of communications and computer technology, a gradual transition to automation of control systems requires constant modernization of these facilities.
In Europe and the USA, technological progress in recent years has led to a significant increase in the efficiency of energy systems, changing the principles of design and construction of electrical substations and their infrastructure.
Technical solutions give customers a number of advantages:
• downtime is minimized through the use of more reliable control systems;
• modern switchgears provide reliable power supply with minimal facility maintenance;
• smart microprocessor devices automate the monitoring and control of substations;
• the risk of major accidents and associated costs is reduced;
• operating costs of the substation are reduced.
Are you looking for innovative technical solutions for a new substation?
Do you need a reliable contractor for the construction and modernization of an electrical substation?
Contact our consultants and learn more about our capabilities.
We and our partners offer a full range of financial and construction services for business.