The role of
engineering
and
financial consulting
is growing every year.
Technological progress, the rapid spread of innovative technologies in the energy sector, industry, transport and other areas creates a demand for professional services from engineering firms.
According to the
OECD (Organisation for Economic Co-operation and Development)
, the demand for financial services has been growing in recent years, including financial modeling and finding cheap sources of funds for large projects around the world.
Things that seemed like science fiction a few years ago will soon bring stable returns to investors.
But today, companies need innovative technical solutions and financial tools to bring these ideas to life.
Business owners are aware of how difficult it is to properly manage assets and finance projects in the face of uncertainty.
Our clients need engineering and financial advice in a variety of situations.
International company ESFС offers the following services:
• Feasibility study for the project.
• Project financing and creation of an SPV to raise funds.
• Professional financial engineering and financial modeling.
• Attracting funding sources in Spain and other European countries.
• Providing loan guarantees to support the business.
• Advanced energy and industrial engineering.
• Construction and installation of equipment.
• Operation and maintenance.
We offer sources of financing for large projects with a minimum contribution of the initiator of the project, amounting to up to 10% of the total investment costs.
The ESFС financial team works closely with the largest European banks, venture capital funds and business angels, providing the client with a wide range of financial instruments to embody the most daring ideas.
Our experts have already helped build and launch a number of large projects, including solar power plants, wind farms, waste processing plants, cement plants, coke plants, mining and processing plants, liquefied natural gas plants, LNG terminals, seaports, etc.
Benefits of financial consulting for business
Doing business in a highly competitive environment requires tough financial decisions.
The problem is that not every entrepreneur has the appropriate knowledge and practical experience in the field of financial management.
Several bad decisions or even one bad investment can expose a company to serious risks and lead to bankruptcy. How to avoid this situation? Instead of relying on your own intuition, it is better to entrust finances to experts.
When a company is in poor financial condition, many owners wonder if it makes sense to keep the business or if it would be more expedient to close it financially. With an experienced external financial advisor who scrutinizes the company's situation, you will be able to find the most appropriate solution and at the same time save the business from collapse.
Often, business owners cannot objectively look at the company's activities and cannot assess its real potential. An independent external expert in many situations can be much more effective than the best internal analyst.
To properly manage your finances, we advise you to use the services of experienced professionals who enjoy good reviews from existing and former clients.
ESFC business consulting is a guarantee of the highest quality of services.
Our professionals have rich international experience, they know the financial markets perfectly and are able to objectively look at the company's finances.
A financial advisor will be useful not only in a crisis, but also in a period of prosperity, when the owner is thinking about different ways of development. The expert will be able to suggest what investments the owner of the company can afford, and also advise what actions (investments) will be correct in the long term.
Some business owners believe they can make better decisions for the future.
The reality is that you can be the best person in your business, but you are not fully aware of many financial phenomena.
A much more reliable solution is to take advantage of the offer of an experienced financial advisor who has up-to-date and constantly updated knowledge about all the phenomena taking place in the business world. Yes, from a business owner's point of view, these are additional costs. However, it is worth considering financial consulting as a long-term investment in the development of the company.
Good advice can make a company thrive, help it conquer markets, and generate a lot of customer interest. Therefore, the costs of consulting services are small compared to the long term benefits.
What does a financial advisor do for a business?
Modern financial consulting is a comprehensive service that deals with investing, finding the best financial solutions, as well as choosing the best loan offers for a specific project.
Professional financial advisors from ESFC have a thorough knowledge of the financial market and have extensive experience in helping clients in difficult financial situations. A financial consultant is able to show the management of the company the best decisions from a financial point of view.
Both SMEs and large corporations can reap significant benefits from financial consulting regardless of the industry in which they operate.
Therefore, if you are faced with an important decision, please contact our specialists.
The most important task of financial consulting for business is planning the company's finances based on an in-depth analysis of the current financial situation and prospects. In practice, the scope of these services can be very wide and varied.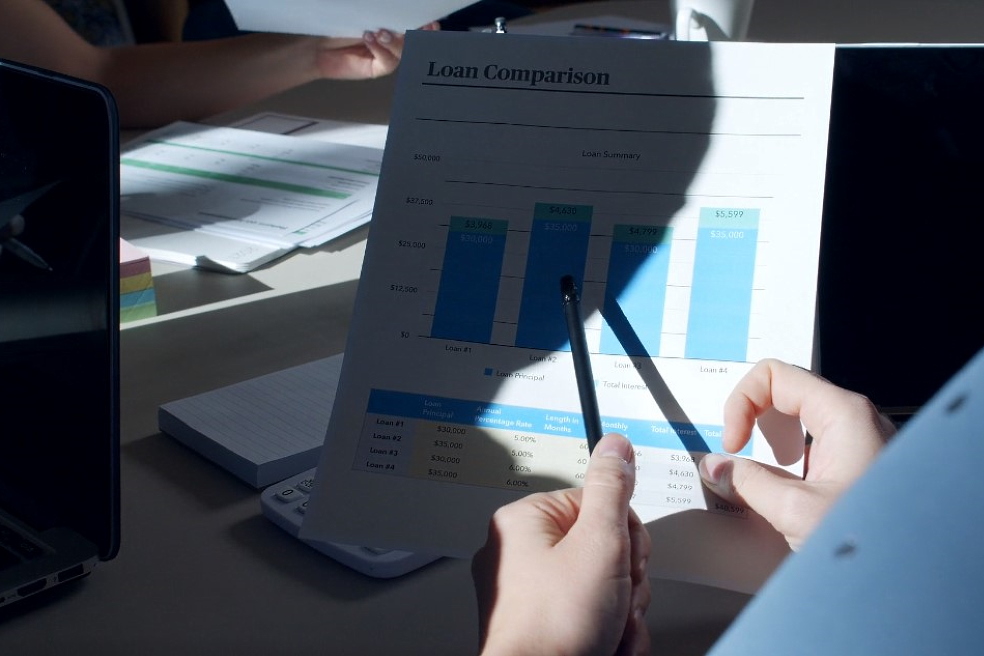 ESFC finance team offers the following services:
• Professional financial modeling.
• Development of a financial plan based on the needs of the client.
• Conducting a thorough analysis of the company's financial position.
• Attraction of large bank loans or private investments.
• Search for the best options for financing the project.
• Identifying the best investment opportunities.
• Assistance in choosing a bank for the company.
• Providing advice on current issues.
Are you in need of a major investment?
Are you looking for financial partners for the implementation of large projects in Europe or beyond?
Contact us for professional advice.
When should you contact a financial advisor?
Many companies decide to seek the help of a financial advisor only when their situation becomes very difficult.
Unfortunately, these services are seen as a lifeline from bankruptcy. But financial consulting is primarily designed to prevent such situations.
Based on many years of experience, we recommend a business to seek advisory services at an early stage of
investment
planning or obtaining a loan. Our team will suggest the best solution for each situation.
With financial consulting, you save time and money.
How?
A business financial advisor has the knowledge and experience that you still need to gain. With it, you can get started right away. Plus, you save money by minimizing the risk of bad investments.
A person learns from mistakes, but it is desirable for entrepreneurs to avoid costly mistakes. Our experts will help you with this.
We will prepare a detailed report on the financial health of your company.
This allows you to make all decisions on the basis of solid evidence, not your intuition.
The benefits of working with ESFC do not end there. We are ready to offer you unique solutions designed specifically for your company at every stage of its life cycle. For example, the optimal model for financing a specific project.
Thanks to us, obtaining a loan, factoring and leasing will become faster and more reliable. The financial advisor knows which banks and other financial institutions will easily finance your profile investments. Our tax consultants will also provide you with comprehensive advice on issues related to optimization of taxation and government fees.
Working with ESFC, clients around the world benefit from our knowledge, experience and business contacts day after day. Financial management is not an easy task, so expert support can be invaluable.
Professional engineering services for large projects
ESFC's philosophy lies in the flexibility of the engineering team and its adaptation to the unique requirements of each client.
We satisfy them with a high degree of reliability, relying on modern technology and precise coordination.
Being a consulting engineer means for our company to provide the advanced knowledge, experience and technology for the successful implementation of each project.
The basis of our work is expertise and comprehensive application of technical knowledge, the ability to adapt and avoid template solutions. Rich experience in engineering activities around the world, responsibility, trust and commitment to the interests of our clients form the basis for finding the right solution in all projects entrusted to us.
Providing high quality turnkey engineering services, the international company ESFC and its partners have earned recognition as reliable EPC contractors. We are engaged in engineering design, procurement and supply of equipment, as well as construction works, operation and maintenance of facilities.
Below is a short list of objects that our company is building:
• Power plants of all types.
• Electrical substations and HV power lines.
• Waste processing and incineration plants.
• Water treatment plants and desalination plants.
•
Liquefied natural gas plants
and LNG terminals.
• Cement plants and
chemical plants
.
• Mines, mining and processing plants.
• Sea ports and cargo terminals.
• Infrastructure projects, etc.
For each project, we assign a qualified engineering team, which develops the appropriate plans and programs, and then carries out the supervision and technical inspections according to the agreed schedule.
ESFC cooperates with major scientific institutions, leading European universities and equipment suppliers in Spain and other countries.
Thanks to access to the most advanced technologies, we can implement the most daring projects in any natural environment, from the hot sands of the Sahara to the Arctic Circle.
Our engineering team has its own information tools, libraries and archives, cutting edge engineering design equipment, and access to international systems. Everything that is needed to successfully complete your investment project in the shortest possible time is concentrated in our hands.
Table: ESFC engineering and financial services for business.
| | |
| --- | --- |
| Engineering services | Description |
| Project supervision | Examination of construction documentation and costs according to budget and payment plans, quality control and adherence to schedule, sequence and specification. |
| Project management | Schedule planning and budget optimization. General direction and control; preparation of documentation, signing contracts, construction and trial operation, acquisition of land plots. |
| Geotechnical services | Soil survey and geophysical surveys, foundation reports, soil drilling, field and laboratory tests, selection and quality control of building materials, damage analysis. |
| Civil engineering | Construction planning, preparation of documentation, placement and preparation of construction sites, delivery and storage of equipment and materials, installation and testing of finished facilities. |
| Hydraulic engineering | Engineering design and construction of reservoirs, navigation canals, locks and ports of any scale. |
| Water supply and water treatment | Engineering design, construction and maintenance of water treatment plants, desalination plants, as well as water supply networks of any type and purpose. |
| Electrical engineering | Engineering design, construction, modernization of power plants, transformer substations and grids. |
| Industrial engineering | All types of engineering services for industrial enterprises, including the modernization of production lines, the construction of new factories and infrastructure. |
| Mining engineering | Engineering design, construction and modernization of mines, quarries and mining and processing plants, development of safety plans, etc. |
| Technical expertise | Research, preparation of technical reports, development of measures to minimize risks, study of the quality of building materials, feasibility study of the project, etc. |
| Financial consulting | Financial modeling, proposal of funding sources for projects, negotiating with banks or with investors, comprehensive financial analysis, company asset management. |
| Environmental protection | Water and air pollution control, environmental analysis, equipment upgrades, environmental problem solving, noise protection, air pollution control and hazardous waste control. |
| Operation and maintenance | Maintenance programs, scheduled and urgent repairs, training for customer repair teams, etc. |
If you are planning a major project, we invite you to take advantage of our professional experience and business contacts.
ESFC and its partners ensure the success of your investment plan.
Contact our consultants to find out more.