Rising investment in coal mining is becoming the dominant trend in China's energy sector
.
Climate goals fade into the background, as energy security, as Beijing defines it, turns out to be much more important than the environment.
In the first two months of 2022, China produced nearly 690 million tons of coal, more than 10% more than in the corresponding period last year, the local statistical office said.
Today, the Celestial Empire accounts for more than half of world production, as Chinese companies mined more than 4 billion tons of coal last year.
Chinese experts traditionally report macroeconomic data for the first two months of the year combined due to the postponement of the Lunar New Year celebration, which makes comparability of statistics difficult.
This is also a period of a week-long break in work and massive migration of workers to their homeland, so the economic activity of Chinese businesses during this period is lower than in other months.
In the past two years, the fading pandemic has slightly changed this picture and China is not "
stopping
".
This was also the case in the mining industry. Due to high coal prices in recent months, high energy demand in the winter, exacerbated by the growing energy needs of the "world factory", Chinese mines have increased production, and state-owned companies have not taken a break even during the holidays.
As a result, compared to December, coal production fell less than usual, from 12.4 million tons per day to 11.6 million tons.
Compared to last year, coal production increased by more than 10%, while imports decreased by 14% to just 35 million tons. Thus, China imports as much coal from abroad as it produces domestically in about 3 days. However, they intend to reduce dependence on foreign supplies.
The National Development and Reform Commission (NDRC)
plans to significantly increase investment in the industry and expand coal production by 300 million tons per year, Bloomberg reports.
In addition, China seeks to increase its reserves by 620 million tons.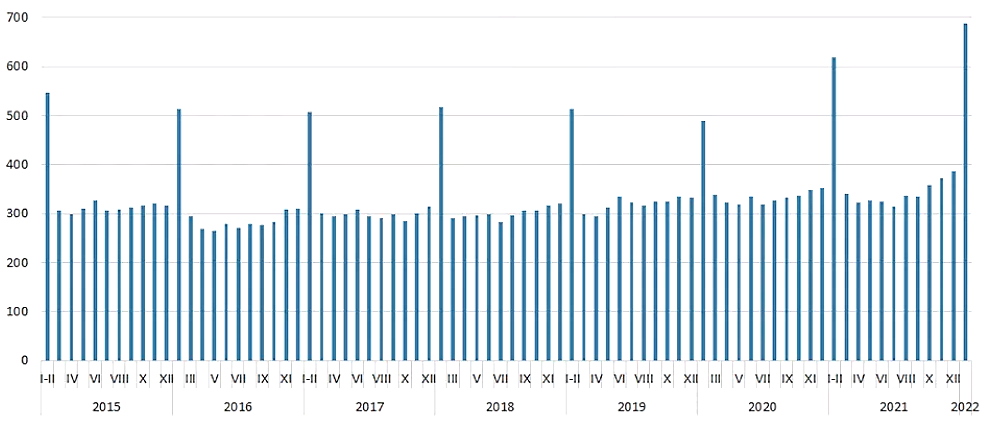 Beijing has been promoting
investment in renewable energy
and nuclear power for years, but coal remains the main source of electricity for the Chinese economy, accounting for about 60% of total electricity generation. Less than a year ago, the Chinese authorities tried to reduce their dependence on oil, but the shortage of electricity, soaring coal prices and the low efficiency of renewable energy in a booming industry forced the PRC to reconsider its policy.
Realizing ambitious climate goals has become less important, giving way to meeting the current needs of the economy and society
.
In addition, in the face of a deteriorating geopolitical situation, the Chinese authorities are actively raising the issue of national security, including in the field of energy resources. China today is forced to import oil and gas, so expanding domestic energy production makes political sense.
Nuclear power, renewable energy, and coal mining make the Chinese energy sector self-sufficient
.
The latter, however, goes against the needs of Chinese society. We are talking about environmental pollution, especially smog. The situation here is much better than it was a few years ago, but a return to greater reliance on coal could halt improvements in urban air quality.
A reasonable solution would be to transfer some of the energy-intensive and polluting industries abroad. This is what developed economies did, which reduced dirty production through imports and improved the quality of life of residents, at the cost of becoming dependent on foreign countries.
In the case of China, which strives for self-sufficiency and emphasizes national security, this will be more difficult. Moreover, the list of sectors that the authorities consider strategic is wide, and control over energy suppliers located abroad is, for obvious reasons, more difficult.
Therefore, experts agree that in the coming years, China will continue to make huge investments in coal mining and the development of
thermal energy
.