First-class equipment with carefully thought-out design is the key to high productivity and payback of your waste processing line.
Together with our European partners, we design, manufacture and sell a wide range of equipment adapted to the processing of any type of waste.
Waste recycling plant equipment
Our product range includes sorting drums, bio-drums, ballistic separators, pneumatic separators, bag openers, conveyor belts and more.
Bag openers
In order to ensure quick opening of garbage bags entering the
waste processing plant
, we offer investors the most advanced models of bag opening equipment, which are characterized by maximum efficiency and low operating costs.
The bag opener is equipped with a low speed rotor. The rotor is driven by an electric motor with a power of 37.5 to 75.0 kW through a belt and planetary gear. The speed of the rotating rotor can be adjusted from 0 to 12 rpm using a frequency variator.
Along the entire surface of the rotor are rows of piercing teeth in the form of a spiral, which open the packages, breaking them under tension.
The distance between the teeth of the rotor and the static piercing machine can be adjusted from 5 to 150 mm.
Main features of our bag opener:
• Advanced German electronics.
• Easy recovery of unsuitable waste.
• Slowly rotating puncture shaft with adjustable speed.
• Reliable planetary gear for transmitting torque to the rotor shaft.
• Adjustable distance between the rotor and the static part of the equipment.
A flexible control system to ensure the correct operation of the equipment in the presence of "complex" materials, including reverse rotation of the rotor.
This is a highly efficient bag opening machine (opening percentage of more than 95%), which significantly increases line productivity and ensures careful handling of bag contents.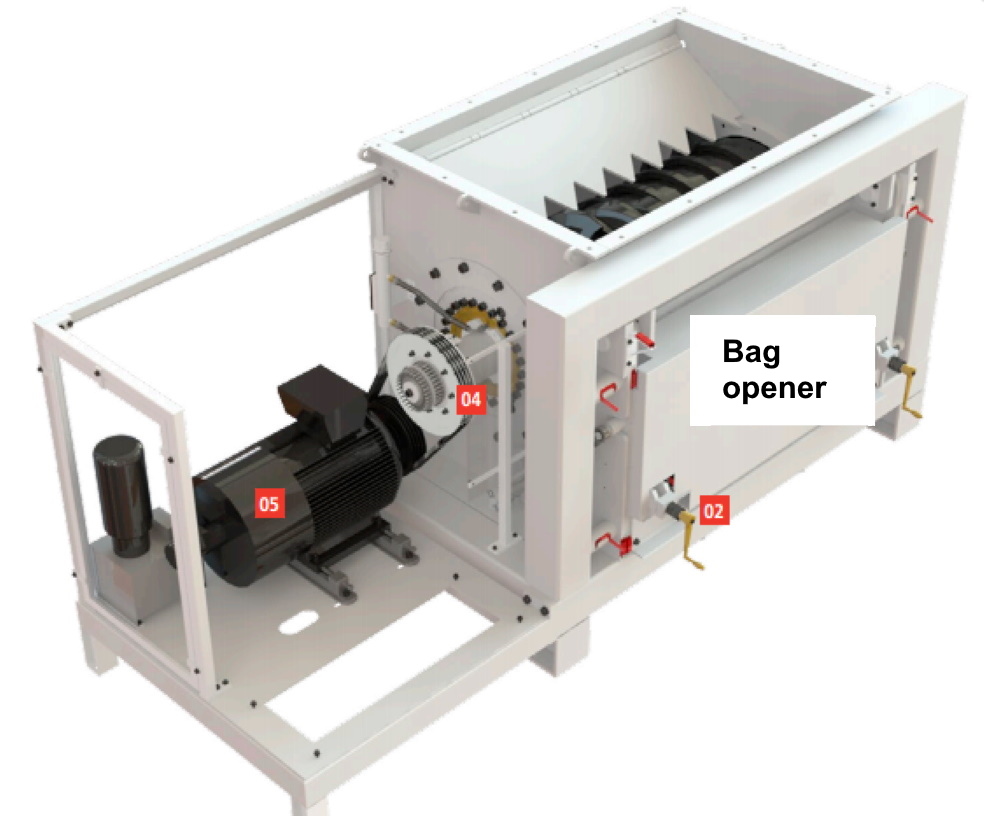 Bag opener – overview:
• 01 – rotating rotor;
• 02 – mechanical adjustment of the distance between the rotor and the transverse beam;
• 03 – hydraulic lifting system with a cover for maintenance and removing the waste;
• 04 – planetary gear;
• 05 – electric motor;
• 06 – system for cleaning the rotor;
• 07 – electric panel.
The cost of a bag opener for a waste processing plant depends on specific parameters. The cost is determined individually after filling out the commercial offer. We`ll be happy to advise you on all issues in order to choose a personalized solution for your business.
Ballistic separators
A ballistic separator is equipment specifically designed to separate solid waste according to shape, size and density. It consists of a ramp made of drilled sheets.
The sheets are driven by two crankshafts arranged transversely on the upper and lower parts of the ramp.
Thanks to the tilt and oscillatory movements, the machine divides the waste stream into three fractions:
• 3D particles: heavy and round objects, including boxes, bottles, cans, etc.
• Flat particles: flat and light objects, including paper, cardboard and plastic sheets.
• Small particles: food debris, sand, broken glass and more.
The ramp tilt can be automatically adjusted between 9 and 18 degrees using a hydraulic system.
To increase the separation efficiency of roller and flat elements, the bottom of the ballistic separator is equipped with fans that help move the flat material to the top of the machine.
This waste recycling equipment has several operating modes that can be adapted to the type and size of waste used. In addition, an insulating cover is installed on the top of the machine, which prevents material from being ejected and provides convenient access for cleaning and servicing.
We offer ballistic separators that can sort from 70 to 200 cubic meters of waste per hour, depending on the model. The length of the equipment starts from 8 meters, and the motor power is 5 kW or more. These compact machines can be installed even in small spaces. We have flexible technical solutions for everyone.
Our ballistic separators are an ideal technical solution for increasing the efficiency of a solid waste processing plant, as well as for plants that produce solid recovered fuels (SRF).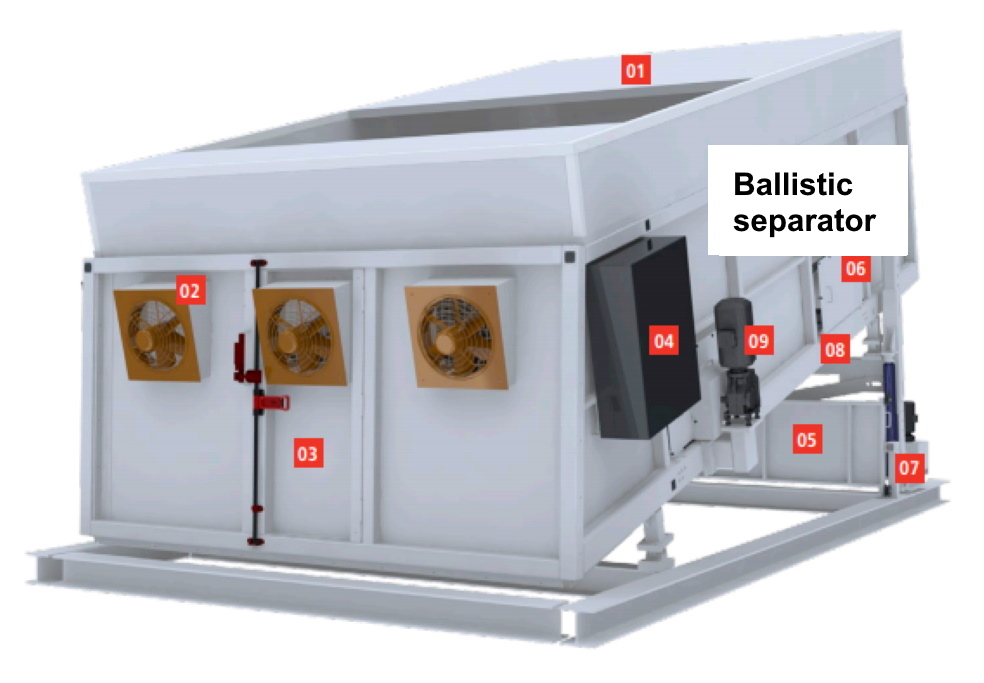 Ballistic separator – overview:
• 01 – raised cover;
• 02 – drive fan;
• 03 – door and ramp for access;
• 04 – electric panel;
• 05 – panel for maintenance;
• 06 – window for maintenance;
• 07 – hydraulic lifting system;
• 08 – equipment lubrication system;
• 09 – engine brake.
Bio-drums
Bio-drums for recycling plants are simple and reliable machines.
Bio-drums are designed to reduce the moisture content of residual waste and increase the efficiency of extraction of various fractions.
This equipment is successfully used at various stages of municipal waste processing, including incineration, composting, anaerobic digestion and landfill. Our bio-drums are suitable for waste sorting complexes of any type.
The bio-drum consists of a horizontal metal cylinder where standardized and partially decomposed waste is loaded. The output material can then be processed to obtain a fraction of small particles, including organics, paper and cellulose.
The resulting product with high calorific value is used in the production of solid recovered fuel.
Bio-drum reduces the moisture content of waste up to 7.5-10%, and increase the density of the material from 0.3 tons / m3 to 0.7 tons / m3. Passing through the bio-drum significantly increases the possibilities for the subsequent use of waste.
This is the best technology for producing solid recovered fuels. We use a smooth process, which mainly affects the content of biodegradable solid waste fraction. As a result of a significant increase in the density of organic matter, the volume of waste decreases.
Our equipment is highly reliable: the bio-drum idle time is up to 1%. The system is equipped with a hopper and a cylinder to promote the waste. It is also possible to control the speed of the cylinder.
The use of bio-drums include:
• Recovery of value-added materials.
• The production of valuable materials for WtE-technology.
• Decrease in volume of waste delivered at transshipment stations and landfills.
• Anaerobic digestion or composting of waste.
The bio-drum can process up to 20 tons of waste per hour, and the duration of the work cycle is from 2 to 3 days. The rotation of the machine at a speed of 0.75-2 rpm causes the standardization and destruction of the soft material due to its friction.
The bio-drum design allows the addition of water or even special solutions. This contributes to the aerobic degradation of organic material and leads to a further decrease in the volume and mass of biodegradable compounds.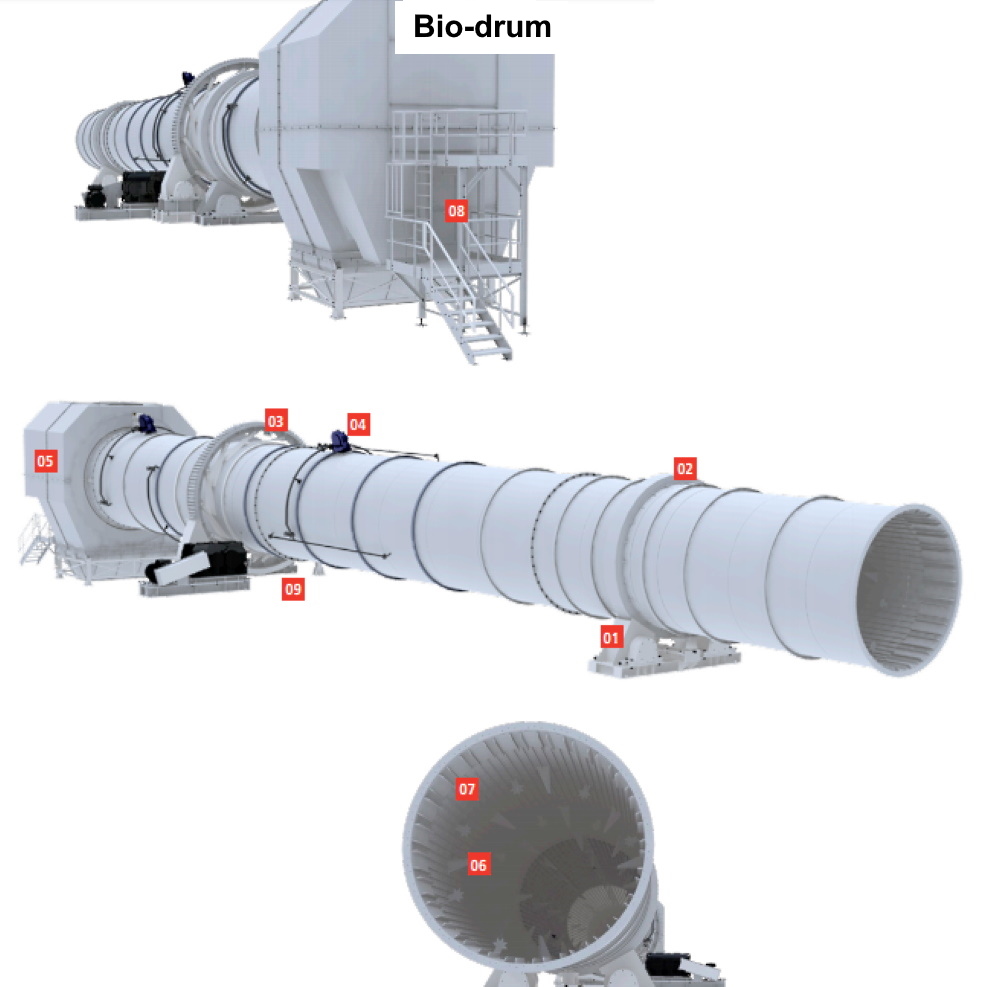 Bio drum – overview:
• 01 – supporting wheels;
• 02 – a directing ring;
• 03 – toothed crown;
• 04 – fans;
• 05 – discharge hopper;
• 06 – blades for opening material;
• 07 – inner drum profiles;
• 08 – window for maintenance;
• 09 – lifting cylinder.
The bio-drums offered by our company have a capacity of 23 to 130 tons per day, depending on the specific model.
The power of the electric motor varies from 45 to 250 kW, respectively. Together with our European partners, we can also design and manufacture customized equipment.
Windsifters
This is a high-performance equipment designed to separate light materials from heavy ones.
The main purpose of windsifters for waste sorting lines is to eliminate unsuitable material from the process in order to protect equipment, reduce wear and extend the life of the processing lines.
Windsifters effectively separate flat and rolling debris due to the continuous flow of moving air at an optimal angle. The equipment consists of a suction system with dust filters and an air recirculation system, thanks to which dust does not enter the machine.
The machine allows adjusting speed, position and tilt of the separation conveyor belt, as well as the capacity of the discharge system to increase the efficiency of waste separation. To ensure safety, the windsifter is equipped with systems that facilitate cleaning and optimize maintenance.
Our assortment includes different models with a capacity of 100 to 160 cubic meters per hour and engines of 25 or 35 kilowatts. With a length of up to 10 meters, these plants take up little space and can be used in small waste processing plants.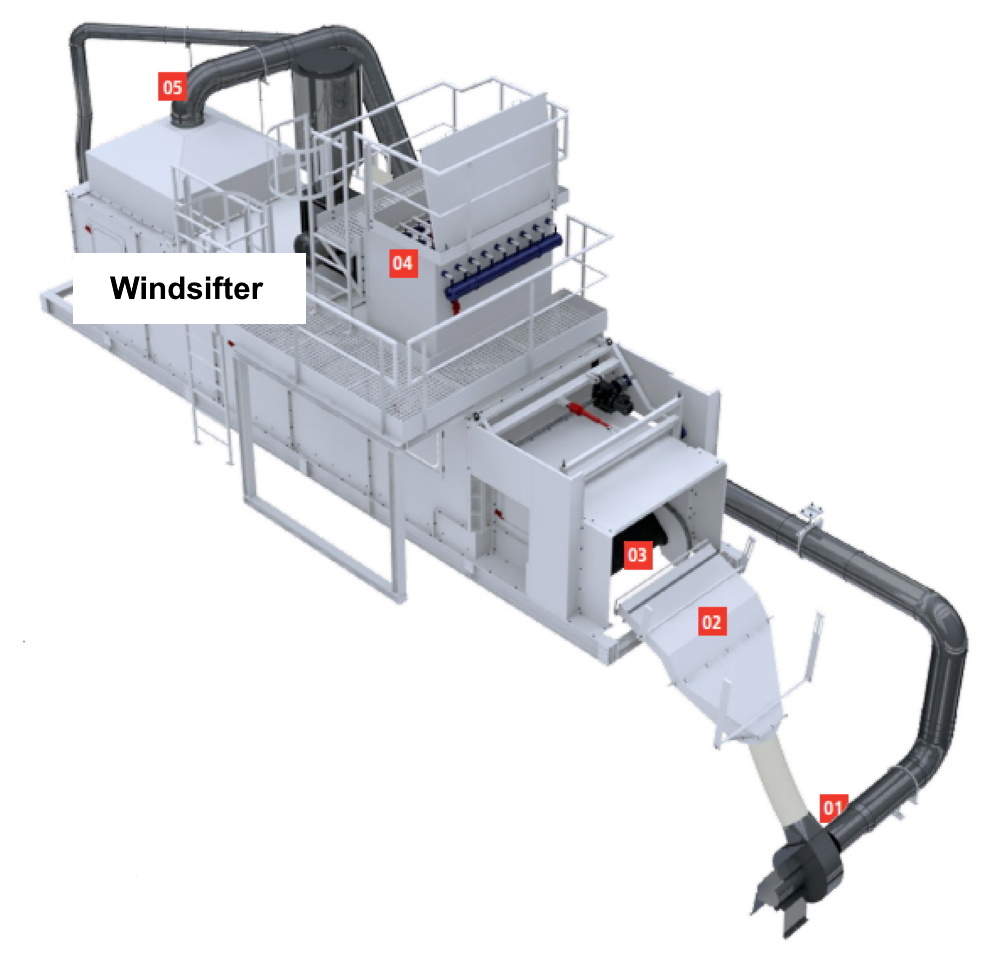 Windsifter – overview:
• 01 – pump with air ventilation, which is controlled by a variator;
• 02 – air nozzle with pneumatic control, adjustable in height and inclination;
• 03 – conveyor belt, which can be changed in height, slope and speed;
• 04 – bag filter with automatic cleaning system using compressed air and vibration;
• 05 – a system with an enclosed airspace to reduce odors and dust.
Trommels
Trommel is an essential part of
waste processing plants
.
Most of the mechanical pretreatment of solid waste is done with this equipment. This determines the efficiency of waste separation.
Trommel is used in various fields.
For example, they separate organic material from packaging, and are also used in compost-like output plants. We offer a wide range of trommels of various diameters, lengths and thicknesses of sheets depending on the specific purpose.
These can be simple and double drums for municipal waste processing plants, as well as reinforced drums for construction and demolition waste processing plants or other special equipment.
Features of our equipment:
• Points for the removal of powdery waste.
• Security devices installed in all internal access points.
• Innovative technologies to minimize maintenance and operating costs.
• Interior lighting for cleaning and maintenance.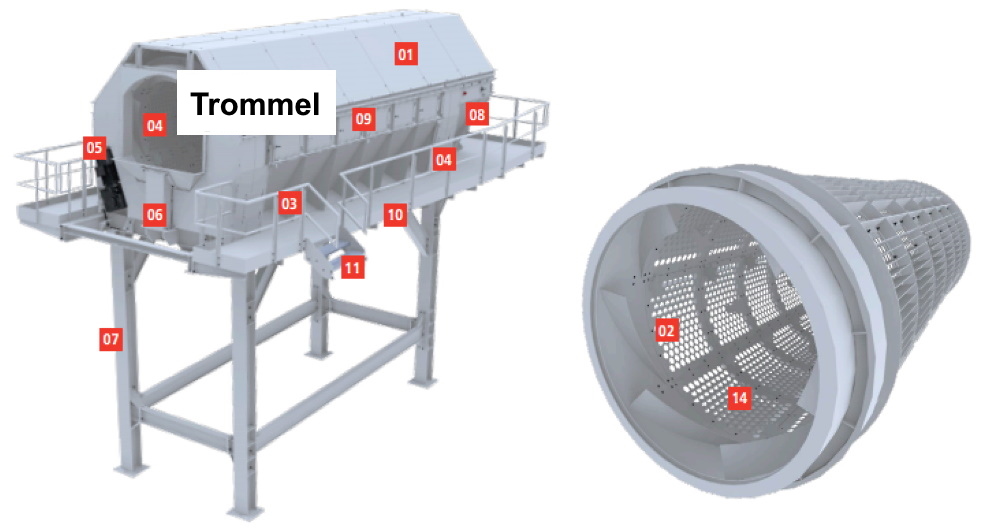 Trommel – overview:
• 01 – a protective cover from steel sheets;
• 02 – cylinder with a sheet thickness of 10 mm and a cell size by customer order;
• 03 – high-strength and wear-resistant rotating wheels;
• 04 – rotary shaft;
• 05 – engine and gearbox;
• 06 – the main body of the trommel;
• 07 – supporting legs;
• 08 – technological cover;
• 09 – passages for maintenance;
• 10 – a ladder of staff;
• 11 – anti-slip system;
• 14 – replaceable sheets.
Trommels of various types are available in more than two dozen models, the performance of which varies from 55 to 210 cubic meters of garbage per hour.
The cost of waste recycling equipment
Together with our European partners, we work tirelessly to make equipment for waste processing plants more efficient and affordable, strictly adhering to quality and reliability standards.
Prices for trommel, bio-drums and other waste recycling equipment are set up individually after filling out a commercial offer.
We are ready to offer any personalized solutions for your business.