One of the world's largest
photovoltaic power plants
is expected to start generating power in Abu Dhabi in 2022.
Investors involved in the ambitious energy project have agreed to sell green energy at a record low price of less than 1.5 US cents per kW by signing a 30-year PPA agreement.
Al Dhafra Solar PV Project, started in 2020, will be an important step towards providing UAE consumers with affordable renewable energy
.
In many ways, this 2 GW solar power plant will outshine previous projects such as Mohammed bin Rashid Al Maktoum Solar Park.
The Al Dhafra solar power plant will increase the UAE's total installed PV capacity to 3.2 GW as the capital's solar power currently relies on another large 1,18 GW Nur Abu Dhabi PV power plant
.
The largest single-site solar power plant in the United Arab Emirates
Al Dhafra Solar PV Project is being developed jointly by Masdar, Abu Dhabi National Energy Company, JinkoPower (China) and EDF Renewables (France).
Under the terms of the agreement signed at the end of 2020, 60% of the $1 billion project will belong to Masdar and TAQA.
In 2021, the
Abu Dhabi National Energy Company, or TAQA
, announced plans to invest another AED40 billion in infrastructure development. In total, the company plans to add about 27 GW of installed capacity by 2030 and significantly expand its portfolio of renewable energy sources.
The scale of the project is impressive. A boundless field of 3.5 million photovoltaic panels installed 35 km from Abu Dhabi can provide green electricity to up to 160,000 households.
With an installed capacity of 2 GW, the Al Dhafra Solar Project ranks among the largest solar photovoltaic plants in the world – many of which are also located in the
United Arab Emirates
.
The environmental role of this project is difficult to overestimate. In addition to reducing the UAE's dependence on hydrocarbons with each new solar panel, it is estimated that the launch of this power plant in 2022 will reduce CO2 emissions by 2.4 million tons annually.
This is equivalent to removing 470,000 passenger cars from the roads, which is an impressive figure in terms of ambitious climate targets. By the way, the UAE Energy Strategy 2050 includes a gradual increase in the share of renewable energy sources in the energy mix to 50% by 2050.
Experts also note the economic importance of the Al Dhafra
solar power plant
for the region.
Competitive bidding resulted in one of the most competitive solar tariffs set at 1.35 US cents/kWh.
Seven large
international banks
have decided to finance the promising PV project after signing an electricity power agreement (PPA) with project initiators in July 2020.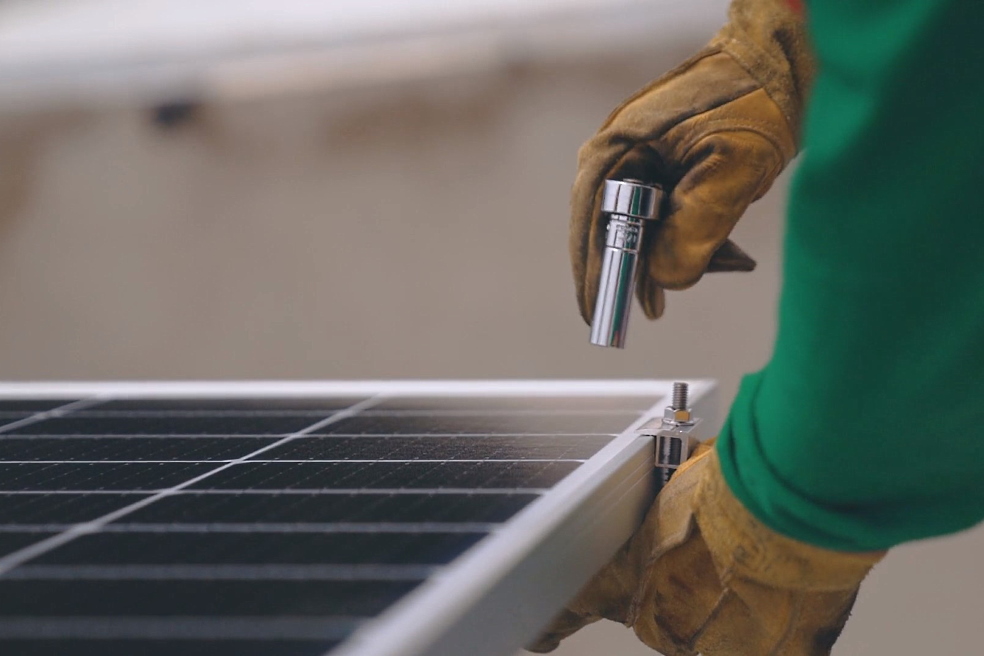 A 30-year PPA agreement was signed between TAQA, Masdar, EDF and Jinko Power with public shareholding company Emirates Water and Electricity Company (EWEC), which will be the main consumer of the generated power.
Such long-term, competitive agreements have been a strong driver of renewable energy development in the UAE for many years.
Interesting facts
.
The construction of the Al Dhafra solar power plant has created about 4,000 temporary jobs, and the total area under construction of photovoltaic panels reaches 20 square kilometers
.
This is one of the largest and most expensive energy projects in the region.
Photovoltaic technologies used in the Al Dhafra solar project
The Al Dhafra Solar PV Project is based on the latest crystalline bifacial solar technology that allows the operator to generate electricity at maximum efficiency.
A bifacial solar cell can produce electrical energy by illuminating both its surfaces, front and back.
Traditional photovoltaic cells produce electrical energy only when photons hit their front side.
The performance of bifacial PV systems, defined as the ratio of incident light power to electrical power generated, is significantly higher than with older
technologies
.
Bifacial solar cells and double-sided panels consisting of them were invented and first manufactured for space and terrestrial applications in the late 1970s, but became mainstream solar cell technologies only in the 2010s. Bifacial solar panels are projected to take the largest share of the photovoltaic solar cell market by 2030.
Bifacial solar modules for the Al Dhafra project were supplied by Chinese manufacturer Jinko Solar.
These panels were ranked best in class as of 2020 in terms of solar-to-electricity conversion efficiency (22.5%).
Double-sided module, created with transparent backsheet technology, provides a capacity of 1.5 kW per array with a 30° tilt angle.
Another engineering highlight of this project was the innovative design of PV modules based on anti-reflective coating (ARC), which, along with other unique technologies, ensures high performance, reliability and durability of the entire facility and its most expensive elements.
The advanced tiling ribbon technology used in the production of the modules minimizes the gaps between the cells, making the modules compact and efficient. It also increases the reliability of the PV modules and improves its aesthetics.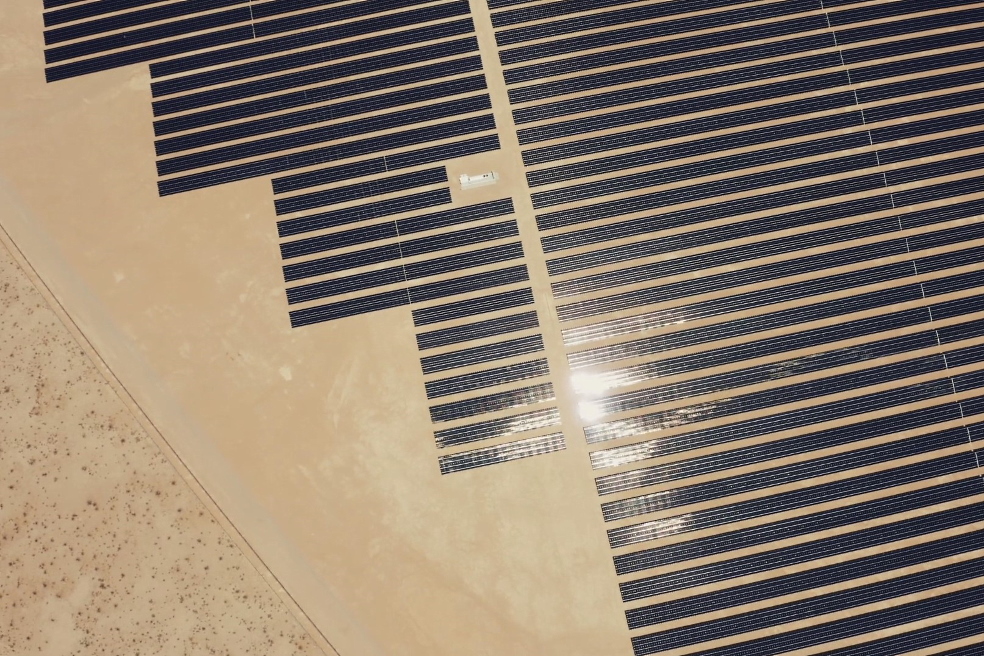 The main result of such engineering solutions is, of course, a reduction in the leveled cost of electricity, which allows Al Dhafra solar power plant to successfully compete with other projects
.
The project involves the construction of ancillary infrastructure, including PV inverters, connection points to the transmission network and related facilities.
The engineering team has also included the option to use a 108 MW battery that runs on Abu Dhabi's existing power storage system.
Looking for funding for a major photovoltaic project?
ESFC Investment Group, a Spanish company with extensive experience in financing the solar energy sector, is ready to offer you
long-term loans
for the construction and
modernization of solar PV plants
anywhere in the world.
Our services include project finance, investment loans, financial modeling and
investment consulting
.
We also partner with leading engineering companies to offer our customers comprehensive EPC-based solutions.