Nunez de Balboa, the largest solar photovoltaic (PV) plant in Europe, with an installed capacity of 500 MW, went into operation in April 2020.
On April 6, it supplied the first megawatt-hour of green electricity to the national grid.
Iberdrola commissioned the project following the successful completion of one year of construction work.
The
solar power plant
, which required an investment of about 300 million euros, was built in cooperation with Ecoenergías del Guadiana.
The unique project involved the purchase of equipment worth 227 million euros from more than 30 suppliers.
The logistical complexity of the project was the delivery of several thousand tons of cargo to a remote construction site, which required significant efforts to coordinate production, transport and assembly work on site. More than 1,200 workers were employed during construction.
The project also included the development of costly infrastructure for exporting generated energy to the grid.
The Nunez de Balboa solar power plant has over a hundred DC inverters and 2,000 kilometers of medium and low voltage cables. The generated electricity is supplied to the 400 kV Bienvenida electrical substation located in the municipality of the same name.
The facility covers an area of 943 hectares and consists of 1,430,000 photovoltaic panels installed on 288,000 foundations with a total weight of more than 12 thousand tons.
The new power plant is located in Badajoz (Extremadura). Nunez de Balboa will generate enough energy to supply 250,000 local residents and avoid 215,000 tons of carbon dioxide emissions per year. The planned annual electricity production is 832 GWh.
This project was an important step towards Spain's energy transition to renewable energy sources.
Such projects confirm Spain's leadership in the European solar energy sector.
ESFC, an international engineering company, offers the construction of solar power plants in Spain and other countries under an EPC contract.
To find out more about our offers, contact the company representatives at any time.
Nunez de Balboa photovoltaic plant technical specifications
According to the 2016 documentation, administrative work began in April 2012 with an official request for access to the transport network.
It was originally planned to build a solar power plant with a peak power of PV panels of 500 MW. The object was to cover an area of 943 hectares, of which 134 belong to the municipality of Hinojosa del Valle, and 809 to the municipality of Usagre.
Nunez de Balboa photovoltaic plant technical specifications:
| | |
| --- | --- |
| Technical specifications | Indicators |
| Number of 325 W photovoltaic panels | 1 535 637 |
| Number of strings of photovoltaic modules | 52 953 |
| Capacity of a set of modules (string), kW | 9425 |
| Total installed capacity of the solar power plant, kW | 499 082,03 |
| Number of inverters 1580 kV / 680 V | 273 |
| Mounting structures for 87 PV modules | 17 651 |
| Total area of photovoltaic panels, m² | 2 977 247 |
Taking into account the new circumstances, in 2018 the specified inverter capacity was reduced to 391 MW while maintaining the 500 MW installed capacity of all photovoltaic panels.
An installation consisting of a solar inverter with connected photovoltaic panels, supporting structure and low voltage infrastructure, wiring protection and trenches to transfer energy from the panels to the inverter is called a "solar field".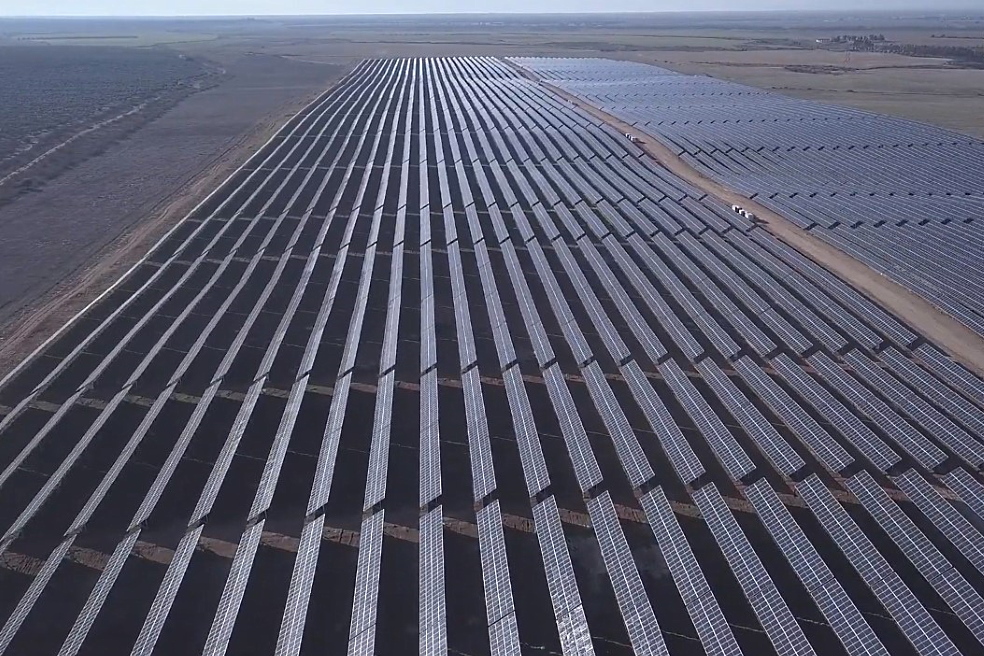 The Nunez de Balboa project was supposed to include two solar fields:
•
Solar field number 1:
179 inverters, 328 979.63 kW.
•
Solar field number 2:
94 inverters, 170 102.40 kW.
According to the project, each solar field was to consist of 1580 kV / 680 V inverters:
| | | |
| --- | --- | --- |
| | №1: 1837,875 kW | №2: 1809,600 kW |
| Number of 325 W photovoltaic panels | 5655 | 5568 |
| Number of PV modules in a string | 29 | 29 |
| Capacity of a string of modules, kW | 9425 | 9425 |
| Total number of strings | 195 | 192 |
| Operating voltage at 50ºC, V | 998 | 998 |
| Maximum power point current, A | 1686 | 1686 |
| Installed capacity, kW | 1837,875 | 1809,600 |
| Mounting structures for 87 PV modules | 67 | 64 |
| PV panel area, m² | 10 962 | 10 793 |
Solar panels are assembled into sets, which are groups of one, two and three inverters connected in parallel to the same transformer.
The voltage conversion is carried out by the SET Núñez de Balboa 30/400 kV transformer substation located in the municipality of Usagre.
It receives the electricity generated by the photovoltaic system at a voltage of 30 kV and increases the voltage to 400 kV to adapt the parameters for the Bienvenida electrical substation.
According to the project the solar power plant was to consist of 1,535,637 325W polycrystalline silicon photovoltaic panels JA Solar or similar.
The following table shows the general technical specifications of the reference PV panel:
| | |
| --- | --- |
| Technical specifications of PV panel | Indicators |
| Number of cells (polycrystalline) | 72 |
| Peak power, W | 325+5,0 |
| Estimated panel efficiency, % | 16,51 |
| No-load voltage, V | 46,48 |
| Maximum power point voltage, V | 37,49 |
| Maximum power point current, A | 8,67 |
| Short-circuit current, A | 9,14 |
| Temperature coefficient, % / ºC | 0,058 |
| Panel length, mm | 1965 |
| Width, mm | 991 |
| Thickness, mm | 45 |
| Weight, kg | 26 |
The photovoltaic modules are mounted on supporting structures made of hot-dip galvanized steel, the size of which must support the weight of the modules, the wind speed of 144 km / h (taking into account the wind resistance of the installed modules) and the weight of snow.
The material for the manufacture of supporting structures meets European standards.
The supporting structures and the PV module mounting system allow for thermal expansion without transferring loads that could affect the integrity of the modules.
The photovoltaic module must be attached according to the manufacturer's instructions to avoid significant bending.
After galvanizing, the structures should not be welded or drilled.
The assembly is carried out using stainless steel screws in specially made holes for this purpose, which avoids the formation of galvanic couples and corrosive effects on the structure.
The structure is fixed to the ground by driving metal profiles into the ground to a minimum depth of 1.5 meters using a special machine. This depth ensures that the structure is resistant to wind loads. To ensure a long service life of the structure, a geotechnical survey of the soil was carried out.
The Nunez de Balboa photovoltaic plant meets the most modern technical and safety standards, becoming one of the most advanced energy projects of this type in Europe.
Role of the Nunez de Balboa project in the development of Spanish energy sector
Iberdrola describes Nunez de Balboa as a symbolic project that has demonstrated the successful integration of millions of components and the coordination of hundreds of employees.
The project has made an important contribution to employment and revitalization of the local industry, clean energy production and its financing.
Iberdrola's strategic plan for the renewal of clean energy production in Spain calls for the installation of 3,000 MW of renewable energy by 2022. Extremadura is at the center of this ambitious energy strategy.
In total, the company plans to invest 8 billion euros to develop solar energy in Spain from 2018 to 2022, adding 10,000 megawatts by 2030. We are talking about huge projects that will create jobs for 20 thousand people.
Along with the Nunez de Balboa solar PV plant, the company is currently building over 1,300 MW of installed renewable energy capacity through six photovoltaic projects:
• Ceclavin PV plant (328 MW) in Alcantara.
• Francisco Pizarro PV plant (590 MW) in Torrecillas de la Tiesa.
• Arenales solar power plant (150 MW) in Caceres.
• Aranuelo I, II and III project (150 MW) in the Almaras area.
• Majada Alta and San Antonio (50 MW each) in Zedillo.
The flexibility of the local administration in the development of renewable energy sources allows for the construction of photovoltaic systems at an accelerated pace, following the European trend towards the elimination of fossil fuels.
Construction of new solar power plants in Spain on the rise
With 3000 hours of sunshine per year, Spain has enormous solar resources.
This contributes to the
construction
of both large solar power plants and small-scale PV systems, which are increasingly profitable for consumers.
In 2020, Spain may add 3.2 to 4.0 GW of installed renewable energy capacity, 2.5 to 2.8 GW of which will come from photovoltaic systems. 1.6 GW of renewable energy was installed in the first seven months of 2020, despite the negative effects of the pandemic.
Although wind farms remain the main source of renewable energy in Spain today, the total installed capacity of photovoltaic systems is close to an impressive 10 GW.
The growth in the solar energy sector has been driven by cheaper technology, increased investor and consumer awareness of the benefits of green energy, and concern for the environment.
The cost of solar power plants in Spain has dropped by almost 95% over the past decade.
Another good news is that in 2019, the country has returned to its 2008 sector growth rate, adding 1,100 MW of installed capacity. This represents an increase of 145% over 2016.
Other achievements include the Nunez de Balboa solar power plant, the largest in Europe.
The sector's expansion plans of tens of thousands of megawatts are also noteworthy, given that the requested permits in total exceed 100 GW. If we take into account that Germany remained at 8 GW, this figure puts Spain in first place among the countries of the European Union.
According to data released by
Unión Española Fotovoltaica (UNEF)
, 10% of installed capacity is from small-scale PV systems isolated from the grid, while the rest is from grid-connected projects. Of the rest, 40% correspond to commercial projects and 60% to industrial power plants.
Our team has rich international experience in the implementation of similar projects, which is confirmed by many completed EPC contracts in the energy sector.
If you need to build a solar PV power plant, contact us, we are always ready to provide qualified assistance in this matter.