Solar energy in Brazil is increasingly being used in homes, commercial buildings, industrial plants and other facilities.
Solar energy can be used to heat water in addition to generating electricity.
The total installed capacity of solar panels in Brazil has reached 4,900 MW.
Of these, 2,673 MW is accounted for by solar power plants, and another 2,226 MW is provided by microgeneration.
The National Electricity Agency (
ANEEL
) and the Brazilian Solar Photovoltaic Energy Association (
ABSOLAR
) ranked the states using this renewable energy source in the territory in 2020.
Solar power plants in Brazil are concentrated mainly in the states of Minas Gerais, Bahia, Ceara, Rio Grande do Sul, Piaui, Sao Paulo, Rio de Janeiro, Santa Catarina.
The report clearly shows that PV systems are mostly popular in the southeastern, southern and northeastern states. States like Roraima and Acre are lagging behind with extremely low installed solar capacity.
Solar energy in Brazil is now being actively used to optimize power distribution networks and reduce negative environmental impact. This renewable energy source is playing an increasing role in industrial, agricultural and domestic processes, creating thousands of new jobs and significantly reducing carbon dioxide emissions.
The Spanish company ESFC
offers comprehensive services in the design and construction of solar power plants in Brazil under an EPC contract.
Our specialists, together with leading equipment manufacturers from Europe and the USA, will find the optimal solution for your business.
Development of the solar energy sector in Brazil
Solar energy in Brazil is still in its infancy, but it has accelerated growth in recent months, especially in micro-generation.
Until 2012, 99.9% of PV panels in Brazil were used only in isolated regions with no access to the power grid.
Only in 2012, with the introduction of ANEEL regulation measures that allow the exchange of energy with the grid, this sector began to grow.
Over the past few years, the country has seen intensive construction of wind farms, with thousands of families installing PV panels on their homes. The use of photovoltaic solar energy has covered more than 30 thousand facilities throughout the country.
Brazil has an advantage due to the highest energy potential.
The level of solar radiation is much higher here than in countries that have developed photovoltaic projects for a long time, such as Germany, France or Spain.
Despite the sunny climate and good conditions for the development of solar energy, Brazil faces a number of challenges in this sector.
The number of photovoltaic systems is not growing fast enough, given the high cost of construction and maintenance without government incentives.
International experts believe that the country should pay much more attention to the creation of government incentives and financing of solar power plants, including micro-generation. This is necessary to lower prices and increase investor interest in alternative technologies.
According to rough estimates, by 2024, more than 887 thousand connected to the grid solar systems (including private PV panels) will be installed in Brazil, which will provide significant savings and preserve the ecological balance.
Solar energy has several environmental benefits for Brazil.
Since a significant part of private, agricultural and industrial consumers will be able to meet their own energy needs, the share of hydroelectric power plants in the country's energy sector will decrease.
The abandonment of hydropower is of great environmental importance, since the construction of hydropower plants is accompanied by the flooding of thousands of hectares of the Amazon rainforest.
For example, during the construction of the famous Belo Monti hydropower plant, a reservoir with an area of 478 square kilometers was flooded. In addition to the loss of unique natural resources and the destruction of the local ecosystem, this construction cost BRL26 billion.
The use of solar energy in the country is still insufficient, but the cost of this technology is constantly falling, expanding its availability for businesses and consumers.
There are several economic benefits of solar energy in Brazil, so we list the most important ones:
• Favorable climatic conditions near the equator make solar energy production in Brazil more profitable than in Europe.
• Private photovoltaic panels installed in residential buildings can generate up to 95% of the energy consumed by a household.
• Construction of solar power plants in Brazil is considered cheaper due to the availability of low-wage labor.
• Solar energy creates thousands of new jobs every year across Brazil.
• Most solar power plants require minimal maintenance, so the operation of these facilities is inexpensive for the investor.
• Possibility of power supply to remote areas where there are no power lines.
A modern solar photovoltaic power plant with a capacity of 100 MW can be located in any suburb without much harm to the surrounding ecosystem.
Such a facility is capable of supplying energy to about 20 thousand residential buildings and reducing carbon dioxide emissions by about 175 thousand tons annually (compared to fossil fuels).
Solar energy sector in Brazil is still facing major challenges.
Government incentives are getting smaller and this makes building solar power plants less affordable, especially when it comes to micro-generation facilities.
Among the problems, some experts cite the lobbies of energy companies that build hydropower plants. Hydropower in Brazil has been the main source of energy for many years and therefore maintains a strong position.
What is a solar power plant: operating principle and characteristics
A solar power plant (or solar park) is a large-scale photovoltaic system designed to generate and sell electricity from the sun.
Solar power plants differ from residential and industrial PV systems in that they supply high voltage energy for distribution rather than for their own consumption
.
Some SPPs have a more complex design, which allows you to heat the liquid inside the concentrator tank and receive water vapor using solar radiation. Combined solar power plants simultaneously generate electricity and heat for heating and industrial purposes.
Solar electricity is generated using silicon photovoltaic cells that convert solar energy. Most solar power plants in Brazil are built on land, but there are high-tech floating power projects.
Most modern photovoltaic panels are equipped with so-called trackers that track the movement of the sun and tilt the panel in the right direction. Trackers significantly increase power generation, but they also add to the cost of operating and maintaining a solar power plant.
A traditional solar power plant works like this: photovoltaic panels generate electrical energy that is passed through a solar inverter and converted into alternating current. The electricity generated by the SPP is transmitted through the power grid and distributed for use by end consumers.
Photovoltaic panels generate direct current, so they need an inverter to convert direct current to alternating current. Such inverters give an output voltage of up to 380 volts. However, a higher voltage is required to transmit power over long distances.
To ensure the transmission of solar electricity through power lines, transformer substations are being built that increase the output voltage to 13.8 kV, 69 kV, 138 kV or 230 kV. The electricity generated by the solar power plant is then transmitted through the grid and distributed.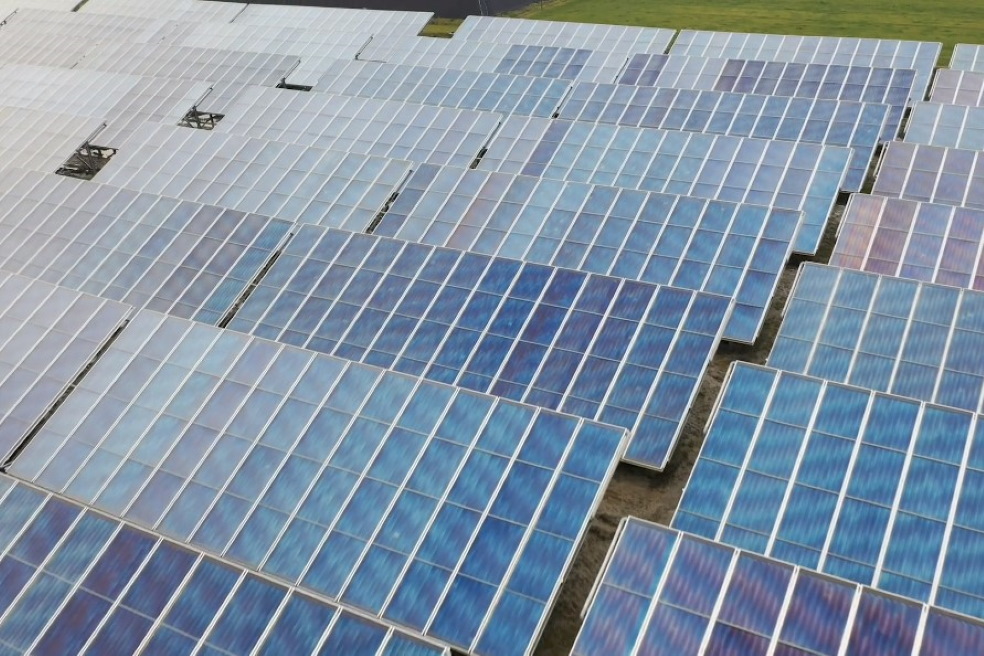 Consequently, the solar project usually includes the engineering design and construction of costly infrastructure, transformer substations and power lines.
This is a complex task that is carried out by engineering firms in cooperation with local energy companies.
Largest solar power plants in Brazil
According to the Operator of the National Electricity System (ONS), there are 3,893 solar power plants in Brazil.
Today, 13 solar power plants are under construction and another 214 solar parks are at the project stage.
The largest operating SPPs in Brazil as of 2020 are shown below.
| | | |
| --- | --- | --- |
| Power plant name | State | Capacity, MW |
| Usina solar Sao Goncalo | Piaui | 608 |
| Usina solar Pirapora | Minas Gerais | 321 |
| Usina solar Nova Olinda | Piaui | 292 |
| Parque solar Ituverava | Bahia | 291 |
| Complexo solar Lapa | Bahia | 168 |
| Central Fotovoltaica Juazeiro Solar | Bahia | 156 |
| Usina solar Guaimbe | Sao Paulo | 150 |
| Usina solar Apodi | Ceara | 132 |
| Parque solar Paracatu | Minas Gerais | 130 |
Sao Goncalo solar power plant
Currently, the largest solar power plant in Brazil and South America is located in the city of Sao Goncalo do Gurgeia in the state of Piauí.
Its capacity, taking into account the last expansion made at the beginning of 2020, is 608 MW. This power plant runs on double-sided solar panels that capture sunlight from both sides.
The Sao Goncalo power plant reduces carbon dioxide emissions by 860,000 tonnes per year, in addition to producing large amounts of renewable energy for the local economy.
Pirapora solar power plant
Located in Minas Gerais, the Pirapora solar power plant has over a million solar panels and provides 321 MW of clean and renewable energy.
Thus, its installation area is equivalent to the expansion of 1,500 football stadiums.
The facility has been operating since 2017.
Nova Olinda PV plant
The solar power plant in Ribeira do Piaui with an installed capacity of 292 MW has an area of 690 hectares. Its area can be compared to the huge nuclear power plant in Angra dos Reis (state of Rio de Janeiro), generating 3.5 GWh of energy.
Ituverava solar park
Since 2017, Ituverava Solar Park in Bahia has an installed capacity of 291 MW, supported by 850,000 PV panels.
The power plant is considered one of the largest in Latin America and is capable of producing 550 GWh per year to supply 268 thousand homes.
Lapa solar park
The Lapa solar park in Bom Jesus da Lapa has an installed capacity of 158 MW.
This power plant generates 340 GWh per year, which is enough to supply electricity to 166,000 residential buildings and office buildings.
Jouazeiro solar power plant
Completed in 2019, the 156 MW Juazeiro solar PV plant generates more than 357 GWh per year, supplying energy to 207,000 households. More than 475 thousand solar panels were installed on an area of 350 hectares.
Guaimbe solar power plant
Located in the state of Sao Paulo, the Guaimbe solar PV power plant contains 550 thousand solar cells, which are installed on an area of 237 hectares.
Its installed capacity reaches 150 MW.
Apodi solar power plant
The Apodi solar power plant in Ceara has a capacity of 132 MW.
The facility is located approximately 200 kilometers from Fortaleza and provides green energy to nearby facilities.
Paracatu solar park
The large Paracatu solar park in the state of Minas Gerais consists of four solar power plants (I, II, III and IV) with an installed capacity of 33 MW each. This energy project was launched in 2019.
The largest solar power plant in the world
Located in Zhongwei, China, the largest solar power plant in the world is Tengger Desert Solar Park, with an installed capacity of 1,547 MW.
The facility was commissioned in 2017.
Tengger Desert Solar Park covers an area of about 43 square kilometers, providing energy to hundreds of thousands of homes, as well as numerous companies in the region.
First solar power plant in Brazil
The Taua solar power plant, built in 2011, is located in the municipality of the same name in the state of Ceara.
The installed capacity of this power plant was only 1000 kWh (1 MW).
It produced enough energy to power 650 homes and was the first solar power plant in Brazil to generate power on a commercial scale.
Solar power plant: benefits for the investor
The advantage of a solar power plant is that it can be used to generate electricity in remote areas, in industry and agriculture.
It is an inexhaustible and 100% clean source of electricity.
Among the disadvantages, specialists point out extremely low efficiency in some areas or during periods of low sunlight. But since the Brazilian climate is characterized by a large number of sunny days per year, solar energy in this country has significant potential.
Benefits of a solar PV plant
No pollutants and smoke
Since PV panels are completely independent of fossil fuels, energy production is ensured in the most environmentally friendly and sustainable way.
SPP does not affect the environment and does not emit greenhouse gases into the atmosphere, reducing the level of air pollution.
Long service life (over 30 years)
Modern solar power plants can operate for more than 30 years with regular preventive maintenance.
In addition, the whole process of design and construction of these facilities is simpler in comparison with thermal power plants, hydroelectric power plants, or even more nuclear facilities.
Low running costs
Solar power plants require minimal maintenance, which should be done once a year or every 6 months.
Its cost is approximately 1% of the value of the initial investment in the project, which is very low compared to other sources of electricity.
Small construction area
Thanks to the use of modern materials, double-sided photovoltaic cells and other scientific advances, a solar power plant can occupy a small area compared to the same hydroelectric power plants.
As for microgeneration, enterprises generally use the working surfaces of other objects (car parks, warehouses, residential buildings) without requiring additional space.
Can be installed anywhere
Distributed generation allows solar energy to be generated at the site itself if construction company comply with energy efficiency regulations.
Disadvantages of a solar PV plant
Significant fluctuations in energy production
The main disadvantage of a solar power plant is uneven energy production, which changes dramatically during the day and also depends on the weather.
Rainy and cloudy days can affect operational efficiency, requiring the company to adjust its plans.
The further the SPP is from the equator, the less energy it can produce. Since Brazil stretches more than 4,300 km from north to south, the potential for solar energy production will vary greatly from state to state.
High construction costs
Investment in solar power plants is still out of reach for small consumers due to the high cost of equipment. Small businesses or farms rarely decide to invest in such projects.
On the other hand, the construction of large PV plants in Brazil usually pays for itself completely within a few years.
Lower productivity compared to thermal power plants
In general, thermal power plants continue to be more profitable compared to solar power plants, since power generation is carried out using well-developed technologies.
In addition, TPPs do not face the problem of generation fluctuations.
Approximate cost of building solar power plant in Brazil
The cost of building solar power plants in Brazil under the EPC contract varies widely.
Each MW of installed capacity costs the investor BRL ≈ 3-5 million, depending on the complexity of the project.
It should be noted that the implementation of large solar projects saves on some cost items, so the average cost of a megawatt will come out lower compared to small projects. An important role is played by the condition of the construction site, equipment and other features of the project.
However, one of the main advantages of a solar project is its long lifespan. Despite the high initial cost, the investment usually pays off within the first few years of commercial use.
We and our partners have extensive practical experience in the implementation of energy projects in many countries around the world.
Our partners design and build power plants and substations of various types.
Our multidisciplinary team of specialists will help you carry out pre-project studies and find the best power generation option for your business.
Contact ESFC
representative to find out more.