According to the Global Solar Atlas, Mexico is among the countries with the highest solar radiation intensity in the world, averaging 5.5 kilowatt-hours per square meter (kWh / m²).
This gives investors ample opportunity to produce renewable electricity and heat in the country.
According to a report by Asociación Mexicana de Energía Solar (ASOMLEX), in early 2020, the total installed capacity of solar power plants in Mexico exceeded 5 GW.
At the same time, China ranked first in the world with an installed capacity of about 205 GW, followed by the United States (76 GW) and Japan (63 GW).
5 GW is a modest figure globally, but it means significant progress for this Latin American country.
Given the 370% growth in installed capacity in Mexico in just one year (from 0.67 GW in 2017 to 3.1 GW in 2018) and the current pace of development, the success story is just beginning.
| | | |
| --- | --- | --- |
| Country | Installed capacity, GW | Share of world consumption,% |
| China | 204,7 | 3,9 |
| USA | 75,9 | 2,8 |
| Japan | 63,0 | 7,6 |
| Germany | 49,2 | 8,6 |
| India | 42,8 | 7,5 |
| Italy | 20,8 | 7,5 |
| Australia | 15,9 | 8,1 |
| Great Britain | 13,3 | 4,0 |
| South Korea | 11,2 | 3,1 |
Taking into account the above facts and trends, we can note that solar energy in Mexico has become a very attractive sector for investors.
It is a key factor that can increase not only the production of clean energy and the sustainable development of the national economy in the coming years.
We have been present in this market for many years, financing and building solar parks under an EPC contract.
Our specialists are ready to help the investor at any stage of the solar energy project in Mexico.
Estimation of solar energy resources in Mexico
Large projects require an assessment of solar energy resources of the area.
This means quantifying the intensity of solar radiation available for use with PV cells.
Since different types of solar systems use different components of solar radiation, such an assessment requires an expert approach.
From the point of view of modern practical applications, direct and scattered solar radiation are distinguished.
The first type
of radiation reaches the Earth's surface directly from the solar disk (in a straight line), but is attenuated by the atmosphere.
The second type
of radiation is scattered by the atmosphere so that it reaches the surface from different points, but not from the solar disk. Both of these components can be used to generate solar energy.
The main characteristic that is taken into account when assessing solar energy is solar radiation falling on a horizontal surface. This indicator is expressed in energy flux density in W / m².
Exposure to the atmosphere is critical to the intensity of solar radiation. It explains the large variability of the parameter over time and depending on geographic location. The amount of solar energy available can vary considerably, not only from day to day, but from year to year.
Experts can identify important differences between relatively close areas due to differences in microclimate. There is no easy way to predict the level of solar radiation in a selected location at any given time.
Since the 2010s, the Institute for Electrical Research has been presenting the Atlas de Recursos Renovables Eólicos y Solares de México, which contains detailed information on the intensity of solar radiation in the country.
According to this atlas, the radiation intensity range here ranges from 5.66 kWh / m² to 6.16 kWh / m² per day.
These high numbers prove that the development of solar photovoltaic projects in Mexico is one of the options with the greatest future viability.
According to the atlas, the northwest of the country is the region with the strongest solar radiation in the country.
These are mainly Baja California, Sonora, Sinaloa, Durango, part of Coahuila and Chihuahua.
In the southern, central and central-western regions, there are numerous places with high solar radiation intensity, as seen in the Nayarit area, parts of Jalisco, Guerrero, Morelos and Puebla.
In contrast, in the eastern part of the country and along the Gulf of Mexico, solar potential is very low. The states of Tabasco, Veracruz, Tamaulipas and most of Nuevo León have the lowest levels of solar radiation. The Yucatan Peninsula as a whole exhibits consistent, moderate-to-low solar radiation intensity, close to the central states of Mexico.
However, high radiation levels do not guarantee optimal performance of the photovoltaic system. Engineers need to consider a variety of climatic and geographic factors that allow the modules to operate efficiently and minimize the downtime and risk of accidents.
One of these key factors is the combination of strong solar radiation with suitable wind speed and strength.
The latter help to cool the panels and maintain the optimal operating temperature.
As follows from the analysis of the map of solar energy resources of Mexico, these factors are best combined only in parts of Baja California, Chihuahua, Tamaulipasa, Oaxaca and Guerrero. Here are the most favorable natural conditions for the construction of solar photovoltaic power plants.
Strong solar radiation and moderate winds combine in a number of areas in Aguascalientes, Zacatecas, Durango and Puebla. These locations can be used to generate solar electricity with adequate planning.
To ensure the correct site selection for solar power plants in Mexico, it is necessary to take into account the intensity of solar radiation in a particular area and its fluctuations throughout the year. Currently, the private and academic sectors are making independent efforts to assess and measure the country's solar resource, which will help to promote this alternative energy source.
An example is 3TIER, which published a global solar atlas several years ago. It shows that Mexico is one of the countries with the highest solar potential in the world, surpassing the world's leaders in solar power generation such as Germany and Spain. These figures are comparable to countries in Africa, Argentina, Chile, Australia and China.
Stages of design and construction of solar power plants in Mexico
Today, solar power plant engineering services in Mexico are provided by both local and foreign engineering firms.
The construction is usually carried out on the terms of an EPC contract, in which a single contractor is responsible for all aspects of energt project.
Therefore, choosing a contractor is critical to ensure the viability and profitability of your energy project over the long term.
The EPC contractor
takes over all the functions necessary for the construction, launch and transfer of the finished object to the customer. From obtaining permits at the level of local government and state regulators in Mexico, to organizing tenders, supplying and installing equipment on site.
The key step is to select the optimal location of the power plant, which determines the performance of the elements and the possibility of further expansion of the facility with an increase in electricity demand. When choosing a site for construction, engineers analyze site constraints, optimum orientation and slope in accordance with technical, economic and construction criteria.
Based on the estimated production, an economic balance is drawn up that will determine the profitability and viability of the SPP over its useful life, which is usually more than 25 years.
Simulation of electricity production using computer technology is performed. This is necessary for more accurate forecasting of generation, taking into account natural factors, equipment characteristics and different types of energy losses.
For this assessment, engineering firms use special photovoltaic design software like PVSYST.
The construction work consists of several aspects, including preparation of land for the installation of structures, construction of trenches for DC cables, medium voltage AC cables and communications.
Construction stages include:
• Determination of the boundaries of the site and construction of the fence.
• Construction of access roads to the site as required.
• Earthworks, including leveling the ground.
• Construction of trenches and underground utilities.
• Installation of inverters and transformer substations.
• Basic civil engineering (buildings and structures).
• Installation of photovoltaic panels.
• Equipment connection and testing.
• Construction site cleaning.
A significant amount of work is related to the electrical installation and construction of transformer substations, as well as the installation of power lines.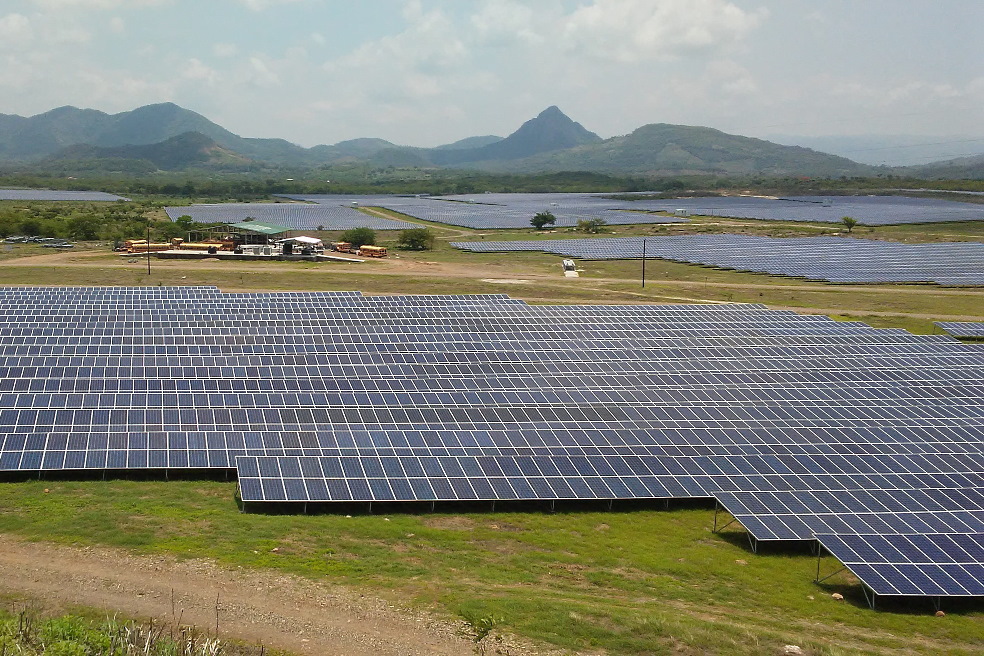 Approximate cost of a solar power plant construction in Mexico
Over the past decade, the cost of an installed megawatt of solar power plant in Mexico has been gradually decreasing due to the innovative technologies and more efficient installation methods.
The approximate cost of each installed megawatt for photovoltaic power plants is up to 400-500 thousand euros, depending on technology and equipment.
The approximate cost of solar thermal power plants is almost 5 times higher.
The main costs of building a solar power plant are shown below:
• Official building permit.
• Insurance related to construction works.
• Feasibility study and engineering design costs.
• Construction costs: materials, equipment (panels, inverters, automation and secutiry systems), workers' wages, rent of special equipment.
• The costs of connecting the facility to the national power grid.
Construction of solar PV plants in Mexico can be somewhat cheaper compared to Spain and other European countries due to the availability of cheap labor.
This reduces the cost of excavation, construction of access roads and other works that do not require highly qualified specialists.
Benefits of investing in the Mexican solar energy sector
In recent years, Mexico has made significant progress in attracting investment in renewable energy, positioning itself as a country with international recognition and dynamic growth in this sector.
The national legal framework offers certain benefits to investors, including tax breaks or incentive certifications such as Clean Energy Certificates (CEL).
Today, CELs oblige large consumers to use a minimum percentage of renewable energy.
The 2013 energy reform played an important role in the development of the sector and helped to attract private investment. The very low cost of electricity at auctions held since 2015 indicates the competitiveness of renewable resources in the country.
In 2017, Mexico and the United Arab Emirates set historic records for the lowest wind and solar prices on the planet.
The lowest price recorded in Mexico was $ 20.57 per megawatt hour.
A law passed several years ago establishes guidelines for distributed generation, which is important for small scale electricity generation with the ability to sell excess energy. This legal mechanism is important for more economical and sustainable energy consumption and the development of renewable energy.
According to ASOMLEX, the number of distributed generation contracts signed with residential, commercial and industrial solar energy producers today exceeds 100,000. By the end of 2018, the installed capacity of this type of generation in Mexico reached 693 MW, which is 1% of the total capacity of all power plants in the country.
In addition to tax breaks and regulatory changes, investors will benefit from global drivers of renewable energy development.
These include price parity with conventional energy, the ability to balance the grid, the use of new technologies, and consumer preference for clean energy sources.
The largest foreign companies, which are present in Mexico, also actively use renewable energy. In 2020, Audi Mexico has become a leader in clean energy, demonstrating a smart and sustainable way of doing business. Their new factory completely switched to using green solar energy from photovoltaic plants located in the north of the country.
This trend is followed by the brewing giant Heineken.
Recently, Heineken México and Enel Energía México announced an agreement under which the latter will provide the Dutch company's brewery in Meoki with 100% clean energy for 10 years. This energy will come from the wind and solar projects of Enel Green Power (a renewable energy subsidiary).
To further increase investment in solar energy in Mexico, leading companies and academic centers are working to better integrate energy storage technologies.
In 2018, the Energy Regulatory Commission (CRE) began creating a legal framework for large-scale energy storage. Representatives from Mexico's Ministry of Energy say the country's new energy scheme will include a mechanism for storing electricity.
The energy storage market can be divided into several areas: reducing grid congestion, supplying electricity, managing tariffs, managing costs during peak hours, or supporting grid integration. There is a clear need to strengthen regulation and encourage investment in this sector.
Mexico is investing heavily in infrastructure, power grid expansion and innovative technologies.
Along with improving the legal framework, this creates optimal conditions for investors.
The largest solar power plants in Mexico
The Latin America region is a place where climatic conditions, an abundance of natural resources and a favorable political climate have created an ideal environment for renewable energy sources.
The largest solar power plants in Mexico listed below confirm this.
Villanueva Solar Park, 828 MW
The largest solar project in Latin America and the Caribbean is Parque Solar PV Villanueva, located in Viesca, Mexico. After a 10% increase in capacity included in electricity sales contracts, the total installed capacity of the power plant reached 828 MW.
This facility was designed and built by Enel Green Power México (EGPM) and was inaugurated on 22 March 2018. The company invested about $ 710 million in construction, which began in March 2017. This project is the largest operating solar power plant in Mexico and the third in the world.
The project includes over 2.5 million solar PV panels capable of generating more than 2,000 GWh of energy per year and preventing over 1 million tons of carbon dioxide emissions annually.
Puerto Liberdad solar power plant, 405 MW
The Puerto Libertad Solar PV Project, located in Sonora, is one of the largest of its kind in Latin America. Its peak capacity is 405 MW, which is equivalent to the nominal 317.5 MW.
The Puerto Libertad power plant is located in the municipality of the same name in the state of Sonora, about 200 kilometers northwest of Hermosillo.
Photovoltaic panels and ancillary equipment of the power plant cover an area of 10 square kilometers, and the surface area of PV cells reaches 2.4 square kilometers. Puerto Libertad produces 963 GWh of energy annually, reducing carbon dioxide emissions equivalent to 46 million trees.
San Luis Potosi solar power plant, 341 MW
Potosí Solar is one of Mexico's largest active photovoltaic projects.
This facility is located 60 km northeast of the city of Zacatecas, near the strategic infrastructure network of the region. The power plant provides electricity to more than 150,000 Mexican homes and reduces carbon dioxide emissions by about 600,000 tons per year.
If you need financing for solar power plants in Mexico, please contact our specialists at any time
.