Inefficient energy consumption in the
mining
industry and in other industries is associated with significant additional costs.
This can often be a sign of poor engineering or investment solutions, which in turn affect company performance, maintenance, safety and environmental performance.
This requires a structural approach to modernization and energy management.
In recent years, there has been increased global attention to energy management in the mining industry. This trend is driven by rising energy costs for mining operations, as well as ongoing public pressure to reduce greenhouse gas emissions from fossil fuel use.
It is obvious that modern business needs professional engineering and financial services for the energy efficient modernization of existing enterprises and the sustainable development of the mining sector
.
Energy efficiency of blast operations
Efficient blast operations have long been seen as an opportunity to improve energy efficiency and productivity in the mining industry.
Improved resource performance, combined with smart blasting, ore sorting and waste disposal, can lead to a significant reduction in the amount of energy required for the grinding process, while increasing the productivity of mining facilities.
The variability in ore concentration and other characteristics have a significant impact on the efficiency of mining, as well as on the overall level of energy consumption. Geological predictions about the composition of an ore body often do not match the reality that engineering teams face.
Good geometallurgical practice reduces this difference by conducting smaller and cheaper tests and using the resulting data to create reliable 3D models of the ore body. This model is used as the basis for an intelligent approach to blasting aimed at areas of the ore body with the highest concentration.
In practice, this process allows companies to reduce energy costs per ton of metal by up to 50%
.
Selective or smart blasting technology uses accurate geometallurgical data to identify areas of the ore body with higher metal grades and higher blast energy.
This significantly improves the quality of the ore fed to the crushing plant, which, in turn, is associated with a reduction in the total amount of energy spent in the crushing and grinding stages.
Sorting and removing poor ore with rock impurities can greatly help the grinding process. As a result, the mill processes material with a much higher metal concentration. Sorting criteria must be consistent with the mining plan and blasting technology to ensure that only appropriate material of the required dimensions is fed to subsequent processing steps.
Removal of poor ore with rock impurities can be carried out using a number of technological processes using sorting equipment, sieves, density separation plants, magnetic separators, and more. Optical, radiometric, x-ray and laser equipment for sorting ores can also be used for this purpose.
The efficiency of this equipment depends on the structure of the ore.
Modernization of equipment for ore transportation
The transportation of overburden, ores and wastes accounts for a significant portion of the energy consumption and operating costs of a mining facility.
Energy consumption depends on specific engineering decisions related to mine configuration, equipment selection and working methods
.
There are many effective strategies to improve the fuel efficiency of heavy haul trucks by optimizing and improving fleet. There are also alternative transportation options to complement haul trucks, including mobile crushing plants, conveyor systems, scrapers, draglines and more.
Haul trucks use a significant amount of diesel fuel and are very expensive for mining companies to purchase and maintain. Operating practices affect their energy consumption and maintenance costs.
Truck speed, especially cornering and braking modes, as well as road surface characteristics are some of the factors that determine tire wear and tire replacement costs.
The performance of heavy haul trucks can be affected by a number of parameters, including quarry design and configuration, hauling speed, machine payload and cycle time, tire wear, vehicle age and maintenance, transmission parameters, etc. Key opportunities for improving the energy efficiency of mining facilities in this context include optimizing load management, implementing new driving practices, improving the configuration of the quarry and surrounding
infrastructure
.
Improving the energy efficiency of ore processing
Experts say that at least 40% of the total energy consumption during the extraction and processing of ore is spent on crushing and grinding processes.
Strategies to reduce direct and indirect energy costs in this area include high-efficiency separation of low-grade ore with rock impurities at an earlier stage in order to reduce the amount of material for further processing, as well as the use of the most energy-efficient crushing and grinding technologies.
Research shows that in some mines, the amount of energy used in the grinding process can be reduced by almost half with the latest efficient equipment
.
Computer simulations based on the discrete element method show that most rock fragments that are larger than the diameter of screening plant holes do not break on the first impact, resulting in low energy efficiency.
Currently, a wide range of crushing and grinding equipment is available on the international market, designed for various materials and various conditions.
Equipment selection and circuit configuration have a significant impact on energy consumption.
The target ore fineness affects the overall energy consumption of mining facilities. The finer the product, the fewer internal defects in each particle. As a result, the particles become more difficult to break down and the energy required for the grinding process increases.
An alternative approach to targeting product fineness in polymineral ores is the incremental isolation strategy, which involves the isolation of a single mineral or group of materials.
This approach is based on the following concepts:
• Several valuable minerals are grouped together, increasing their effective concentration and allowing the desired degree of separation to be achieved with a coarser grind.
• Released particles, which contain 100% valuable
mineral
, are to be recovered by flotation.
• Ore particles containing at least 15% of valuable material are also subject to recovery by flotation under appropriate conditions and reagents.
If sufficient separation of minerals occurs, they can be separated from the ore before subsequent crushing and grinding.
This strategy is also applicable to the removal of low-grade ore with rock impurities, resulting in a reduction in the amount of energy required for grinding and an increase in efficiency in subsequent separation stages.
However, this approach requires a very good understanding of the composition of particles at different degrees of grinding.
The degree of reduction for each crushing process affects the particle size distribution and energy consumption of the mining facility. Energy costs are relatively low when the ore particle size is constant. Smaller particles with fewer microcracks are more difficult to break, resulting in energy dissipation and sludge formation. For a more uniform particle size distribution, various screening and filtering devices are used, which also contributes to more efficient flotation.
Another opportunity for optimizing energy consumption at the stage of ore processing is to increase the efficiency of the separation.
The so-called Froth flotation is a separation technique based on the different chemical properties of minerals compared to low-grade rock ore. Optimizing the chemical conditions in the flotation cells reduces the energy intensity of the process.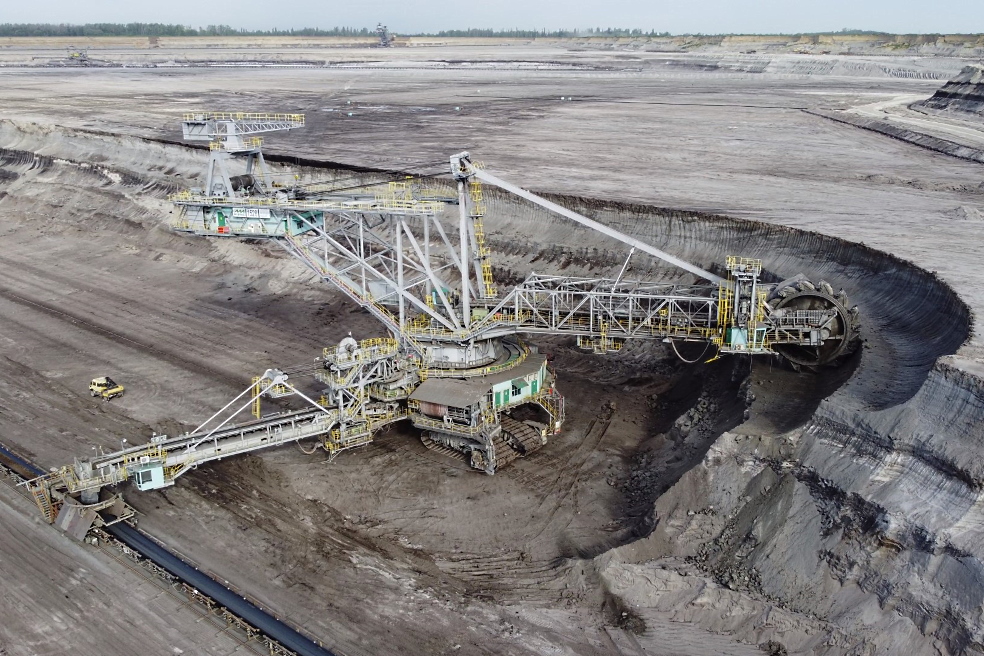 The implementation of new methods to reduce the energy consumption of the mining industry can be carried out through improved froth flotation technologies and precise control of its parameters.
For example, mixing and agglomeration of particles occurs faster in smaller than traditional froth flotation cells.
Other engineering solutions
Significant energy savings can be achieved by improving the maintenance of ventilation systems.
For example, impellers or fan blades should be cleaned regularly to avoid buildup and loss of static pressure.
Energy
can also be saved by making sure that the capacity of the ventilation system matches the needs.
Underground mines allow minimizing energy consumption for driving air and water flows, as well as reducing the cooled area. Often the energy losses associated with fans and pumps are high due to the long distances air and chilled water must be transported.
Therefore, the use of local systems with modern highly efficient equipment makes it possible to significantly improve the energy efficiency of mining facilities
.
Sometimes companies can save both energy and water at the same time by implementing affordable engineering solutions. For example, the use of spray additives can reduce the frequency of water spray trucks being used.
However, in other cases, reducing water and energy consumption are competing goals that require some kind of compromise.
On-site
water treatment
, for example, can lead to a reduction in the amount of water purchased, but also causes an increase in energy consumption.
Therefore, any attempt to solve the water problem in a mine without taking into account the impact on energy consumption will simply move the problem from one direction to another.
If you are interested in innovative solutions to improve the energy efficiency of mining facilities, please contact our specialists.
ESFC Investment Group, together with our respected international partners, offers a wide range of financial, engineering and
consulting
solutions for quarries, mines, mining and processing plants, steel mills and other facilities around the world.